Should I squeeze my spots?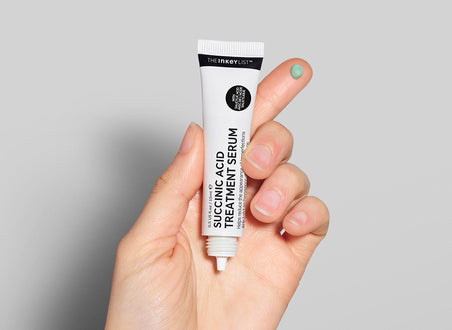 Whiteheads, blackheads, pustules and cysts - these band of breakouts are frustrating to deal with and come with an irresistible temptation to squeeze but, is it bad to squeeze our spots?
Spots occur when excess sebum combines with dirt, debris and dead skin cells to form a plug within our pores. This can create infection and pus beneath the surface layers of skin in varying degrees of blemish. 
As expected, the general consensus from experts and dermatologists is that popping pimples can do more damage than good if extractions are not done professionally. Blemishes closer to the surface of our skin such as whiteheads and blackheads come with less risk factor than deeper rooted and inflamed breakouts but can still impact the healing process and spread bacteria. 
Here's a few reasons why it's best to avoid the squeeze: 
SQUEEZING LEADS TO SCARRING
Whilst the instant gratification of a squeezed spot can be tempting, you can be left to deal with longer term scarring even when the breakout has passed. These scars are created from the damage to the follicle wall where the blockage is being forced and infection leaking into the surrounding tissue. The skin then either over-produces collagen to repair the area or there is a loss in tissue creating an indent. 
Physical interference such as this can also be traumatic to the skin structure and cause long term damage to the skin barrier leaving it compromised to other concerns and vulnerable to environmental stressors and free radicals.
BURSTING SPREADS BACTERIA
Whilst it can feel like a release to burst a blemish, this is in fact a hoard of bacteria that's been harboured beneath the surface and is now spreading across a wider area of the skin. This bacteria can then inhabit new pores and create fresh new pimples if not done in a sanitary way or cleansed effectively.  
BREAKOUTS LAST LONGER
Interfering with the natural healing can cause breakouts to last longer, especially if, as above, bacteria is being spread further afield. Blemishes can heal themselves in time so patience is key.
HOW TO HANDLE BREAKOUTS 
Try targeted treatments such as

 Succinic Acid Treatment

which is designed for use on pimples or breakout areas to clear and reduce inflammation with quick and intensified results. 

Keep your skin clean with a cleanser such as

Salicylic Acid Cleanser

 to ensure pores are clear and oil production is maintained. 

If you do want to pursue a more manual approach to clearing your skin we recommend any extractions are done by a dermatologist or professionals to ensure long term implications are reduced. 

To take care of your skin post-breakout, our

Mandelic Acid Treatment

significantly reduces hyperpigmentation and fade marks and scarring.
If you want further advice on acne and breakouts or to create a tailored skincare recipe, contact us at askINKEY.