9 things you can do to prevent acne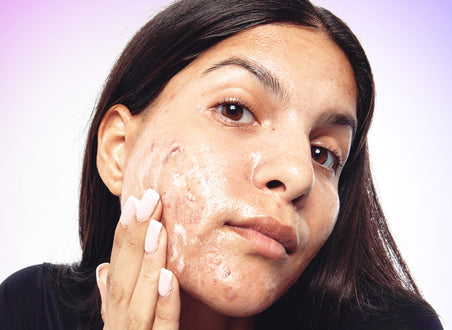 Acne, breakouts, blemishes. Whether they come in bursts or linger long-term, this skin condition can be painful, uncomfortable and knock your confidence levels. 
Acne is one of the main concerns we hear about at askINKEY, a condition of varying severity, from blackheads and whiteheads to cysts and nodules. These can be caused by a range of factors including hormonal changes, genetics, lifestyle factors and habits, environment and your routine. Excess sebum combined with dirt and debris plug the pores and can result in inflammation and infection. 
Prevention is the best cure for acne, here's our top tips to help you treat your breakouts: 
1. START WITH YOUR SKINCARE ROUTINE
A solid skincare routine to target acne-prone skin is an essential first step in treating blemishes. Make sure it's tailored to your skin type, sensitivity and addressing any other concerns you have. Keeping a consistent routine is also important as frequent changing of products can irritate the skin or compromise the skin barrier.  
We recommend:  Our Recipe Builder to create a personalised recipe for to your skin type, sensitivity and concerns.
2. POWER IN PREVENTION
Keeping pores clean and clear by removing any build up of skin cells, and debris is the best way to beat a breakout before they appear.
3. CHECK YOUR HABITSCREATE HEALTHIER HABITS
Our lifestyle choices such as food and drink consumption can impact oil production and chemical balances in the body which can trigger a reaction in our skin. Note whether breakouts occur in relation to particular activities or foods.
4. GIVE YOUR SKIN A BREAK
Particularly when breakouts are bad, try minimizing the amount of makeup or frequency you're wearing it. As a preventative measure, you could try having a makeup detox day each week to allow your skin to rest and breathe. 
We recommend: Symbright Moisturizer to make skin instantly appear brighter and more radiant for those no-make up days.
5. PROTECT YOUR SKIN
Sun damage can be compromising to the skin barrier and impact the oil producing layers beneath but also cause dehydration and excess oil production 
We recommend using an SPF for broad spectrum protection from both UVA and UVB rays.
6. WASH YOUR FACE DAILY
It may feel obvious, but washing your face regularly will prevent the build up of dirt and debris on the surface and avoid build up in the pores. We recommend cleansing in both the AM and PM.
We recommend: Salicylic Acid Cleanser for a foaming cleanse that penetrates the pores. 
7. AVOID POPPING SPOTS
Whilst it can be tempting and satisfying to burst those blemishes, squeezing can potentially spread infection further and cause more blemishes than you started with. Exercise the will power and use targeted treatments instead.
We recommend: Succinic Acid Treatment for a safer quick relief. 
8. STRESS AND SKIN
Stress has been linked to acne outbreaks. It impacts our parasympathetic and sympathetic nervous systems which send signals that release hormones into our system and these fluctuations can have side effects of breakouts. 
9. STAY HYDRATED
Dehydrated skin can actually trigger increased oil production which can mean bad news for pores. When excess oil combines with debris such as skin cells and dirt, this can block the pores and begin the breakout.
We recommend: Hyaluronic Acid Cleanser to cleanse as well as hydrate beneath the skin's surface. 
If you're still concerned about acne or breakouts, contact us at askINKEY or get in touch with your doctor/dermatologist to investigate the cause of the concern.