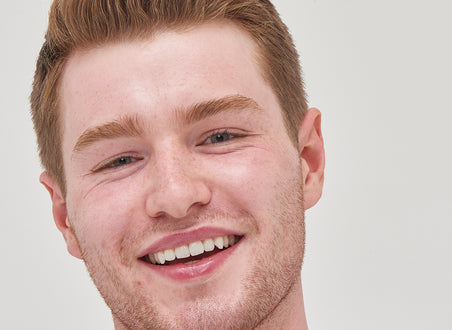 Whether it's an ongoing condition or sudden reaction, the skin can appear red for a number of different reasons with a spectrum of severity - from health conditions such as Rosacea and dermatitis, allergies, reactions to a flush from exercise, temperature etc. The accompanying factors to the redness, such as itchiness, inflammation or dryness, can help determine the cause and resolution of the concern.
WHY IS MY SKIN RED?
The actual cause of the redness is from extra blood rushing towards the skin surface which can be triggered by a need to fight off irritants or infections or simply from blood pumping workouts or sun exposure. When the skin is damaged or under threat it sends signals for the body to direct more blood to the affected area to repair. 
The first step is identifying the redness - is it a flush? Patches? Textured? Where does it appear?
Then it's to explore the circumstances:  Is it affected by using products or ingredients? Has anything changed in your general routine?  
SKIN CONDITIONS
Redness can be a symptom of skin conditions such as Rosacea, Dermatitis, Eczema, Psoriasis amongst others. Conditions like these can have many variables in source and appearance. For example, Rosacea tends to be a rash-like flush whilst eczema is redness combined with dry and flaky texture. Connecting with a doctor or dermatologist for a thorough investigation can help navigate what the root cause of the condition is, whether there's an allergy and how to treat it.  
ALLERGIC REACTIONS 
Redness can of course be a symptom of an allergic reaction or sensitivity to ingredients, chemicals or such as in products you're using. If redness appears immediately after using a product and is accompanied by a burning, itchy, stinging sensation - this could be a reaction. This can most likely occur if using a stronger active such as AHA, BHA or Retinol or layering products that don't mix and match. Learn more about what products you shouldn't layer together here. If you know which product is causing the reaction, we recommend removing it from your routine immediately. If you're not sure what might be causing the reaction, stop your routine and build it up 
Reactions may not just occur from external contact. It could also be the result of a reaction to certain foods and ingredients consumed that can cause the skin to express the internal reaction.   
EXTERNAL FACTORS
Redness can be a more short term side effect of environmental activities such as workouts, spending time in warm climates or other external factors. Whilst this will often subside, using soothing ingredients and products with cooling properties 
This can also mean that redness can be a seasonal occurrence. Heat rash and sunburn are both conditions that are specific to certain climates and environments and are irritated by exposure to temperature or excessive UV rays.   
Burns, whilst temporary, are a form of redness which can be caused by friction, chemicals, thermal factors amongst others. It's important to seek medical advice if experiencing burns but the same principles of soothing and healing apply. 
THE BEST INKEY LIST PRODUCTS FOR SKIN REDNESS 
From soothing the initial impact to improving skin tone, here's our heroes for reducing the redness.
A gentle, soothing treatment which helps reduce redness, inflammation and rosacea, whilst keeping skin calm, soft and moisturized. The lead Endethelyol 2% is a unique 5 in 1 active ingredient to prevent skin redness and improve rosacea. It controls all the major skin inflammation factors, reduces neovascularisa on mechanisms while brightening skin tone. Tested under dermatological control, it is perfectly compatible for all types of sensitive, red and irritated skin.
Oat Cleansing Balm
A rich cleansing balm that melts away makeup and impurities without drying the skin.
Formulated with Oat Kernel Oil, a rich, natural Oat Oil which hydrates and moisturizes the skin and effectively removes SPF- perfect as a first cleanser in your double cleanse routine. Also contains Colloidal Oatmeal which contains a high level of skin beneficial natural actives, making it a must have cleanser to soothe irritated skin and reduce redness.
A lightweight, power-packed serum containing 10% Niacinamide that can be easily layered into your skincare routine. This naturally occurring B3 vitamin helps to effectively reduce excess oil, blemishes and redness. Its thin consistency is formulated with 1% Hyaluronic Acid for added hydration and effective delivery.
A concentrated 2% Alpha Arbutin serum to help reduce the appearance of hyperpigmentation and dark spots and keep skin at an optimal hydration level.
Derived from the leaves of the bearberry plant, this non irritating serum helps to brighten the skin and improve overall skin tone. Added Squalane helps to increase skin hydration and smoothness. 
An efficacious and vibrant face mask to provide instant relief to overworked skin in need of some TLC whilst helping to improve skin barrier ongoing as a leave on treatment! The lead ingredient, Madecassoside 0.5%, a component found within Centella Asiatica, helps to reduce inflammation, reduce redness and itching whilst helps to aid wound healing. The formula has an instant and lasting cooling effect - perfect for overworked skin!
This lightweight daily moisturizer quickly absorbs to deliver every essential vitamin for healthy-looking skin, including clarifying B3 (Niacinamide) to help balance oil, brightening antioxidant Vitamin C, and soothing Vitamin E. Perfect for normal skin types looking to keep skin healthy all year round.
OTHER DO'S AND DON'TS
Use an SPF - this will protect the skin against further redness from UV exposure as well as avoiding damage to the skin barrier which can cause increased sensitivity and likelihood of reaction. 

Be gentle with your skin and avoid over exfoliating, scrubbing or rubbing as this can encourage further blood flow to these areas or aggravate damage that the skin is attempting to heal. 

Keep the temperatures low. Using scalding water to wash, rinse or shower can cause o increase the appearance of redness and also be a risk to the skin barrier causing dryness and compromise to environmental

Reduce using any actives, fragrances or essential oils within your routine which may cause additional aggravation to your skin. A sudden redness reaction or irritation from certain products or ingredients could also cause damage to the skin barrier so a simple, stripped back routine whilst the cause is investigated is advisable.    
Build a routine around redness or have your skincare queries answered by the askINKEY team.