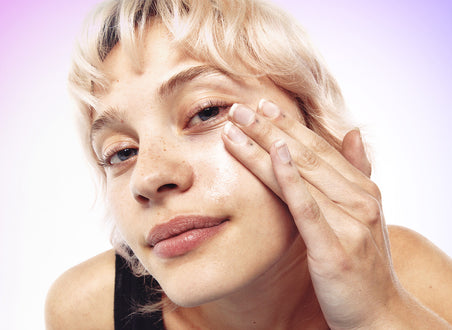 Sensitive skin is a broad term to describe skin that has reduced tolerance and can be aggravated by products or external/lifestyle stressors. It can be the result of damage to the skin barrier or as an allergic/irritated reaction to certain ingredients that it comes into contact with. If you have sensitive skin, it can require an adjustment to your daily skincare routine, exploration of the cause and a consciousness around the ingredients you're using. 
WHAT IS SENSITIVE SKIN?
Have you suffered any reactions previously when having a treatment or using a product such as redness, itching? Do you have any  allergies to other topical medications, foods or ingredients that you may know of? 
Reactions can occur for a number of reasons. 
Skin reaction to a specific ingredient, product or formula

Adding multiple products to your routine at the same time

Layering actives that can cause irritation when use together

Exposure to sunlight, heavy winds, hot or cold temperatures
Sensitized skin, due to damage to the skin barrier, causes shorter term heightened sensitivity and can be treated through focusing on rebuilding and repairing the barrier. By improving the resilience of the skin layers before adding in stronger actives to the routine means there is less likelihood of irritation. 
There are also a number of medical conditions that would be considered sensitive skin types also including: Rosacea, Eczema, Dermatitis (allergic and irritant contact), Hives and Photodermatoses
These all impact your skin and prevent it from being able to fully protect from outside stressors meaning your skin may get irritated. Dry skin also tends to be more sensitive due to less of a protective moisture layer.
HELP, I THINK I'M HAVING A REACTION
If you feel like you're experiencing a reaction, start a record of what products you're currently using and what their core ingredients are. Observe how long you have been using the products for, what you're layering them with - identify any clashes that may be causing the reaction or any new additions to an existing routine. 
Next focus on the reaction itself and how it manifests. Allergy reactions can be red, itchy, burning, stinging and tend to appear fairly instantly. Sensitivity can also be peeling, tightness, dry patches, flakiness or bumps.   
The next phase is how to handle the sensitivity. If you've started a routine from scratch, remove one product at a time to identify which product your skin may be sensitive to. Alternatively, you can stop your routine and build it back up gradually with the same objective.
If you're unsure or experiencing a severe reaction, stop using products immediately and contact a doctor or dermatologist. 
THE BEST PRODUCTS FOR SENSITIVE SKIN BY THE INKEY LIST
Whilst we can advise on what you might want to avoid, we also have a great selection of products formulated to treat or be used with sensitive skin...
TO CLEANSE: 
A rich cleansing balm that melts away makeup and impurities without drying the skin. Formulated with Oat Kernel Oil, a rich, natural Oat Oil which hydrates and moisturizes the skin and effectively removes SPF. Also contains Colloidal Oatmeal which contains a high level of skin beneficial natural actives, making it a must have cleanser to soothe irritated skin and reduce redness.

TO TREAT:
This easily absorbed super serum works across multiple layers of the skin, hydrating your skin, helping it appear plump and smooth, while reducing the appearance of fine lines.
Hyaluronic Acid Serum is a powerful moisture-binding ingredient that works beneath the skin surface and can hold up to 1000x its weight in water. ​ Ensuring your skin is hydrated is essential for it to look healthy, therefore it's a must have step in every recipe! 
A lightweight, power-packed serum containing 10% Niacinamide that can be easily layered into your skincare routine. This naturally occurring B3 vitamin helps to effectively reduce excess oil, blemishes and redness. Its thin consistency is formulated with 1% Hyaluronic Acid for added hydration and effective delivery.
Clear blemishes fast, reduce inflammation and prevent clogged pores with our non-drying, targeted treatment. With a cream formula, it is easily layered under makeup without flaking. It's our best acne treatment for sensitive skin.
With 2% Succinic Acid, the treatment gently reduces blemish size, reduces oil levels and unblock pores whilst also helping prevent them from clogging again after use. Combined with 2% Sulfur and 1% Salicylic Acid, this targeted treatment will help shrink blemishes and blackheads whilst remaining gentle on the skin.
Our PHA Toner is a gentle exfoliant for sensitive skin that helps remove dead skin cells from the surface of the skin, giving the appearance of smoother, brighter skin. Larger PHA molecules gently remove dead cells from the surface of the skin to improve texture, whilst PHA's humectant properties naturally lock in moisture. Formulated with Aloe Barbadensis Leaf juice helps soothe the skin and 3% Niacinamide to even skin tone, this toner is great for both AM and PM use. 
Aloe barbadensis leaf juice soothes skin
With sensitivity, it's important to give your skin barrier some attention. With our 3% blend of Ceramides works overnight at various levels of the skin to target dehydrated skin and help it appear plumper by morning. Naturally found in the skin, Ceramide is the glue that binds skin cells together, helping the skin's barrier feel rehydrated, supple and protected. This nourishing cream treatment is also formulated with a 2.5% multi-molecular Hyaluronic Acid, giving an all over surge of skin plumping hydration.
TO MOISTURIZE: 
Lightweight and suitable for all skin types, this moisturizer helps to maintain your skin's PH balance, promoting a healthy complexion and help protect against pollution.
Multi-Biotic combines pro-biotic, along with its nutrients (pre) and by-products (post), to help balance and promote healthy skin. An unbalanced skin PH level can show itself as accelerated signs of ageing, irritation and excessive oiliness. Balancing the bacteria of the skin can be beneficial to breakout-prone skin, as well as dry and sensitive skin. It can also help to brighten and even skin tone.
Plant derived, and with antioxidant properties, this natural Retinol alternative helps to reduce the appearance of fine lines and wrinkles and even skin tone.
Formulated with the Omega-3 packed Sacha Inchi Oil and Squalane, it also works to hydrate and nourish your skin. It does not cause any sun sensitivity, so can be used in both the AM and PM, and is safe to use during pregnancy.
HOW TO HANDLE SENSITIVE SKIN
If your skin is very sensitive we would recommend avoiding Retinol Serum, Vitamin C of over 15%, strong AHAs and BHA actives. 

Be careful when using fragrances, strong active ingredients, essential oils in skincare products, washing detergents, soaps and even cleaning supplies. 

Be gentle with your skin and to avoid further damage to the skin barrier. 

Always patch test when using new products and introduce to your routine one at a time

Keep a journal of your skincare, diet and activities to help identify what may be causing a flare up

Always add new products gradually to identify reactions and allow your skin to build up tolerance. 
PATCH TESTING
When adding a new product to your routine, it's always important to do a patch test to check your skin's reaction and whether any irritation occurs. To patch test, apply a small amount of product to your inner arm or behind your ear and wait 24/48 hours to check your skin's tolerance. This is particularly important for those with sensitive skin. 
CONTACT A DOCTOR OR DERMATOLOGIST
Adjustments to routine, using the right products and soothing ingredients can be enough to keep sensitive symptoms at bay. If your symptoms are persistent or worsen, we always recommend consulting a doctor or dermatologist to explore the root causes and wider range of treatments available. 
Want to create a sensitive-friendly routine? Or have further questions? Contact the team at askINKEY.