7 Ways to Combat Acne (for Under $19!)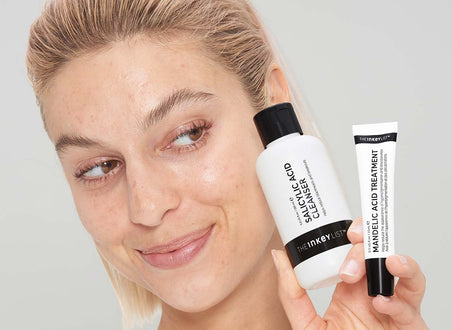 Suffering from break outs? You're not alone. Acne is one of the most common (not to mention frustrating) skin concerns, but many people feel confused about what causes it and (most importantly) what you can do about it. 
Studies show that blemishes occur due to a variety of different reasons including hormones, environmental factors or even using the wrong products for your skin type. 
The good news? With a consistent routine and effective ingredients, you can fight acne and maintain clear skin—all for under $19.
1. CLEANSE & UNCLOG
First things first it's key to gently remove impurities, SPF, makeup, and acne-causing bacteria. Our $13.99 Salicylic Acid Cleanser works on skin's surface and within pores to shed buildup and help skin absorb acne treatments. 
2. HYDRATE & SOOTHE
Healthy, hydrated skin is better able to fight breakout. Lock in moisture with $11.49 Hyaluronic Acid Serum. It's packed with the best emollient and humectant ingredients to soothe dry skin both instantly and over time. 
3. CONTROL EXCESS OIL 
Excess oil can clog pores and make breakouts worse. Keep skin in balance with $9.99 Niacinamide Serum. This multifaceted ingredient helps regulate oil production, visibly minimizes large pores and  calms redness. 
4. STRENGTHEN SKIN'S BARRIER 
Opt for an oil-free, water-based moisturizer $12.99 Omega Water Cream to hydrate skin without clogging pores. This lightweight formula is made with omega fatty acids, glycerin and Niacinamide to support skin's barrier, control oil, and even tone. ​
5. SPOT TREAT
Zero in on stubborn spots quickly with a non-drying $8.99 Succinic Acid Treatment. This potent blend of 2% succinic acid, 2% sulfur and 1% salicylic acid gently reduces blemishes, reduces oil levels, and clears pores. 
6. FADE POST-ACNE MARKS
Target any redness or dark spots left behind after the breakouts have gone with $11.49 Tranexamic Acid Serum.  This gel formula visibly faces hyperpigmentation, uneven tone, and dark spots with 2% tranexamic acid, 2% acai berry, and 2% vitamin C. 
7. ASK OUR EXPERTS
Need more help or got a question? Just askINKEY. Our team is here to help find solutions for your skin. From lifestyle suggestions that might help with acne to specific products and ingredients to try. Our askINKEY team is available 24/7 on our live chat, all askINKEY experts ready to make skincare as simple as possible.