Which moisturizer is right for me?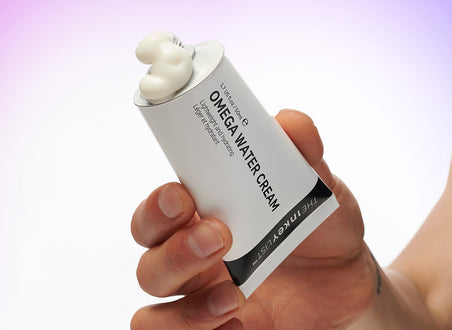 A moisturizer is a must-have in any skincare routine. Right up there with an effective cleanser, a moisturizing cream, lotion, or oil can make all the difference for any skin type, and is a step in an effective regime. But with so many around and lots of conflicting advice, it can be tough to know how to pick, apply, and make the best of your moisturizer. Fear not; we've laid everything out that you need to know to ensure you chose the right moisturizer for you. 
Why you need a face moisturizer
Put simply, a moisturizer is there to maintain and lock in moisture, and to round up your regime, from cleansing to hydrating and any serums or other treatments you may have used. It is a mainstay in any routine, and should be used last in the morning (with SPF, use afterwards if your moisturizer does not contain one), and evening. 
Using a moisturizer helps to deliver this hydration direct to the skin on our face, and has both short term, and long term benefits. After an initial use, skin should look brighter, more plumped, and have an illuminated glow. In the long term, moisturizer can help to maintain the skin's health, from staving off things like inflammation and acne, to helping to prevent and target signs of ageing. 
A moisturizer is also a must for protecting the skin's barrier function, which helps to keep all the good stuff in (for example, hydration), and to form a layer that stops outside pollutants from damaging our complexion. A healthy skin barrier helps the skin to become more resilient and therefore less prone to issues like acne or inflammation. 
As well as the basics, a good moisturizer also often provides added benefits, depending on the ingredients it features. For example, many have a built-in SPF to protect skin from damaging UV rays, while others have targeted anti-ageing or spot-fighting ingredients. 
How to apply a moisturizer 
Getting the most out of your moisturizer depends in part on how well you apply your product. It may sound simple, but learning a few key tips can ensure best results. 
Using the correct amount
Using too little product can mean skin does not receive the full benefits it should do, as areas can get missed, whereas too much can leave skin feeling uncomfortable. It's obviously dependent on the type of product you're using, but in general, you should aim to use around the size of an almond. Some products, such as INKEY's Peptide Moisturizer, distribute the perfect amount in a single pump, making it easy to know how much to use. 
Technique, technique, technique
So you've got the right amount of product on your hands, how do you apply it effectively? Our favourite way to put on moisturizer is to apply dots of the product across the face and neck, before gently rubbing it in with a slightly firm pressure in upwards, long strokes. This ensures even application across all areas. 
Apply to clean skin 
The cardinal sin of moisturizer application?! Putting it onto skin that's not been effectively cleansed. Remember, moisturizer should come last (or right before a separate SPF in the morning), meaning skin should be effectively prepped and primed from a cleanse (double, at night time), and from any added serums or treatments you'd like to apply beforehand. Leave several minutes between these last steps to allow your products to sink in. 
Finding the best face moisturizer for your skin type 
With so many incredible options out there, it can seem tough to narrow down your choices when it comes to picking the right moisturizer for you. But one of the most important factors that should sway you is how each formula suits your specific skin type. We've laid out which types of product match each skin type or concern below. 
Best moisturizer for dry skin
It goes without saying that dry skin is often most in need of a hardworking, deeply hydrating formula that quenches dryness effectively. Texture-wise, you may want to opt for richer, more luxurious creams rather than lightweight lotions. Buttery soft, velvety formulas will suit your dry skin type, such as the INKEY Peptide Moisturizer, which also works hard to prevent signs of ageing.  
If you'd prefer a lighter texture, just look for certain ingredients in your moisturizer that will aid dryness. For example, INKEY's Bakuchiol Moisturizer features Omega-3 packed Sacha Inchi Oil and Squalane in its ingredients list for deep hydration, while our Squalane Oil and Rosehip Oil can add another layer of hydration both alone or underneath a lighter moisturizer. 
Best moisturizer for oily skin
If you have oily skin, it can be tempting to want to skip the moisturize step. However oftentimes, this can become counter-productive, as skin produces excess oil as a response to compensate. For this reason, you should reach for a moisturizer even if you experience oiliness. 
There are some lovely lightweight lotion style products that will work beautifully with oily skin, without feeling heavy or clogging. For example, the INKEY List Vitamin B, C, and E Moisturizer has a smooth, non-sticky texture that absorbs quickly. It also contains brightening vitamin C for pollution protection, and clarifying niacinamide to help keep oily skin at bay. 
Best moisturizer for acne-prone skin
Similar to oily skin, the key with acne-prone skin is finding textures and ingredients that will support a complexion sensitive to issues such as these, without clogging pores or leaving a heavy, uncomfortable feeling after application.  
The INKEY Vitamin B, C, and E Moisturizer would work here, as would the lightweight Multi-Biotic formula, which helps to neutralise excess oil that can lead to breakouts. 
If you have oily or acne-prone skin and really can't bring yourself to reach for a cream or lotion, you could try our Squalane Oil, which comes in a super lightweight oil that hydrates gently and helps to control oil production.  
Best moisturizer for combination skin
The key to caring for combination skin is treating specific areas in their own special way. If you suffer from an excessively oily T-zone, you may be able to forgo the moisturizer there altogether, just applying your product on the cheeks and forehead. 
Alternatively, a lightweight oil such as the INKEY Squalane Oil can work wonders, as can any of our lightweight moisturizers (including Vitamin B, C, and E, and the Multi-Biotic), which do not clog pores or bother oilier areas, but are still hydrating enough to tend to dryness. 
Best moisturizer for concern-free skin
Skin that's considered 'normal' or does not have any real direct concerns is lucky enough to be able to tolerate a range of moisturizers. Our advice however is to stick to a good solid formula that's not too light, not too heavy, and features some brightening ingredients to add an extra glow. In short, you don't want to rock the boat if your skin is doing well, and may just want to boost radiance for a little extra something. 
The INKEY Symbright Moisturizer tends to any slightly dry or dehydrated areas, while also utilising fermented plant clary sage and Kakadu plum extract to brighten. 
Day time vs night time moisturizers
So, should you use a different moisturizer in the morning and at night time? This is really a case of preference. Some of us like to opt for a lighter texture in the morning (particularly if applying makeup afterwards), and go for something a little richer or creamier at night time, which can sink in and do its good work as we sleep.  
Ingredients-wise, some things can also work a little better at different points in the day. For example, anything with a built-in SPF should obviously be used in the morning, while retinoids and exfoliating agents that can cause sun sensitivity should usually be reserved for night time. 
You may also want to use the same moisturizer during both regimes, but add in some extras for specific needs. For example, mixing in a few drops of Q10 Serum to your morning cream can provide extra protection against pollution throughout the day, while Squalane Oil combined with your bedtime moisturizer will provide a super hydrating treatment as you snooze.  
Oils vs cream moisturizers
While creams and lotions are usually first thought of when discussing moisturizers, oils can also act as brilliant stand-in options. 
This can often come down to preference; for those who hate the feeling of a heavier cream on skin, a lightweight, non-sticky, non-rich oil such as INKEY's Squalane Oil or Rosehip Oil can do the job perfectly. 
Oils also often have the advantage of being able to penetrate skin a little better than thicker moisturizers as like serums, they have smaller molecules that can target deeper layers of the skin. This means if you have really dry or dehydrated skin, an oil can be a god-send. What's more, you could even layer up your oil with a lightweight lotion to lock it in effectively.