Change your skin in 30 days for under $12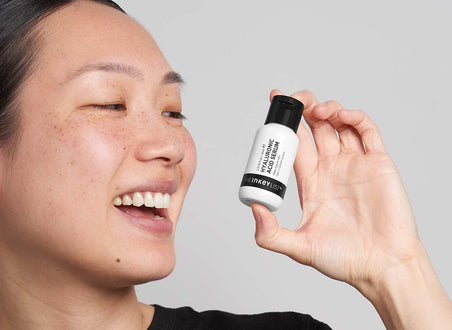 What if one product could totally transform your skin? Even better, what if it could do it in 30 days?  
Meet the best-selling Hyaluronic Acid Serum. There's a reason this cult favorite sells every 20 seconds*. It's a $11.49 bottle packed with science's most effective ingredients to deliver hydrated, smooth, youthful skin—at a fair price.
What is Hyaluronic Serum and what are its benefits?
 Hyaluronic Acid has been a skin care hydration staple for decades. Published research has proven that this ingredient works across multiple layers of skin, pulling moisture from the air and sealing it in. Plus, this powerful humectant (a fancy way of saying moisture magnet) can hold up to 1000x its weight in water. What does that mean for skin? Lasting hydration.  
Derms agree: one of the most important things you can do for skin (besides sunscreen, of course) is take care of your moisture barrier. Hydrated skin is better able to fend off environmental damage and irritants, plus shows fewer signs of aging. Read more in our We Discussed .. Hyaluronic Acid Serum article.
What makes our Hyaluronic Acid Serum different? 
 Our #1 best-selling serum is formulated with 2% multi-molecular hyaluronic acid for optimal efficacy, but that's just the start. What makes this formula an absolute game changer for healthy, hydrated skin are the other active ingredients we pack into every bottle.  
 First, Matrixyl 3000™ peptide complex. This synthetic anti-aging peptide blend encourages skin to produce collagen, so it looks firmer and more youthful over time. Next, ultra-hydrating glycerin (a well-known emollient) both smooths and relieves dry skin, softening on contact. 
The results? The smooth, supple, glowing skin you've always wanted in thirty days or less—all for $8.99. Why pay more?
Commit to using Hyaluronic Acid Serum for 30 days and see what it does for your skin.