|
What Causes Clogged Pores?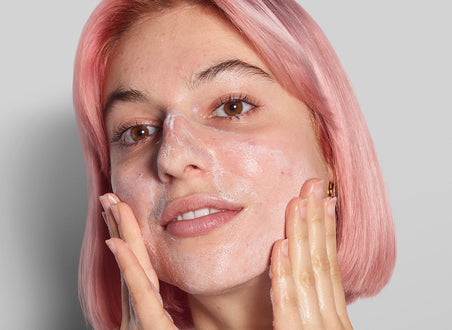 What Do Pores Do, Exactly? 
Pores—small holes all over your body—house the natural oils (sebum) that help keep skin supple and hydrated. They also allow sweat to pass through and cool you down during exercise or hot days. In short: you really, really need your pores and you can't get rid of them entirely. And while the size and shape of these openings are determined by your genetics what you can do is clear out clogging buildup that makes them appear larger.


How Do Clogged Pores Happen? 
Clogged pores occur when oil and dead skin cells build up inside of pore linings and they expand to accommodate it. As we age, our body's cellular turnover slows, which makes skin less able to shed pore-clogging gunk naturally. Oily and combo skin types are more prone to pore concerns, particularly congestion around the t-zone, because of the overproduction of sebum leading to excess oil and blocked pores.


How Can I Unclog My Pores? 
Remember, you can't shrink the actual size of your pores, but you can unclog and minimize their appearance with the right products. 
Here are our derm-recommended tips for dramatically smaller-looking pores:


1. Double Cleanse
The best face wash for oily skin is one that removes pore-clogging impurities, without stripping. While drying products might seem like the answer to excess oil, stripped skin will overcompensate with increased oil production and worsen clogs. We love The Ultimate Double Cleanse Duo for those prone to clogged pores. 
First, melt away makeup and SPF with a hydrating cleansing balm that preserves skin's barrier. Follow with an antioxidant-rich gel cleanser that removes the remainder of any daily pollution and leaves skin soft, soothed and balanced.
TIP: If you have stubborn clogged pores or are acne-prone, try a Salicylic Acid Cleanser as the second step of your double cleanse for extra pore-refining benefits. 


2. Exfoliate, Exfoliate, Exfoliate
Now your skin is clean and prepped, you can focus on clearing out those pores. We recommend slowly incorporating gentle AHAs & BHAs into your routine. For best results, try alternating these exfoliating and see how your skin responds. Be mindful to not overexfoliate as that can irritate skin and worse
Salicylic Acid (BHA) helps to unclog and minimize pores. We pair it with a zinc compound to further aid in controlling excess sebum. Use BHA in your AM and/or PM routine to refine pore sand smooth around the clock.
Glycolic Acid Toner (AHA) benefits are essential for maintaining pore size. This powerful ingredient sweeps away dead cells before they are able to be trapped within pores. It also helps lift debris from the surface of skin, allowing the pores to clear. Use this ingredient in your PM routine to wake up with healthy, glowing skin. 


3. Maintain Balance
To keep pores clear long-term, regulating the oil flow is what will prevent buildup from occurring in the first place. 
Phytic Acid Serum helps calm and soothe oily skin, as well as visibly minimize pores size and control excess oil. 
Niacinamide Serum is one of our favorite ingredients for balancing oily skin, smoothing rough texture, and reducing pore size. It also helps regulate sebum production, which prevents pores from being clogged in the first place. 


4. Don't Forget: Stay Hydrated 
Moisture is essential for healthy skin. And yes—oily skin types need it too. The best moisturizer for oily skin is one that replenishes weightlessly.
Immediately hydrate skin with a lightweight, oil-free moisturizer made with nourishing omega fatty acids to support skin's barrier - try Omega Water Cream. As with all our products, be sure to patch test before committing to full application to make sure skin responds well.
More questions about your pores? Get help from our skin care team 24/7 with askINKEY live chat.