Should you change your skincare with the seasons?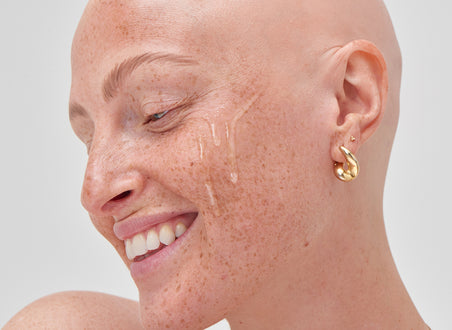 A change in season can bring both a wardrobe update and a skin routine update. Shifts in temperature and humidity as well as elemental challenges such as sunshine, wind and showers, bring a necessity to adjust your skincare routine throughout the year to help adapt to these external influences.
Whilst your actual skin type does not change overall, it's attributes can adjust and heighten based on the change of season and environment so what may not usually be a concern can develop or appear at different times of year. Your skin type - dry, combination, oily or normal is determined genetically whilst changeable concerns are what's impacted by the outside world. 
The transitional period between the seasons can be the key time to add or swap products in your routine. For example, introducing hydrators as you move into Autumn and the skin begins to dry out and using lightweight products during summertime. As with any changes in our body, the skin is often the first place we see changes or indicators or something being out of balance - see these as a message to add or swap your products.  
AUTUMN/WINTER 
In the colder months the air gets drier which can in turn make skin dry and flaky. In turn, we're faced with heating systems and hot showers which can dehydrate the skin further. Whilst the skin does it's best to regulate itself, we can give it some support through additional nourishment and protection. 
Protect the skin barrier to help prevent moisture loss:

SWAP: WATER BASED TO OIL BASED CLEANSER
As the autumn season can cause the skin to dry out, it can help to use an oil-based cleanser over a water-based cleanser so that it doesn't dry the skin out further. Excess dry skin cells can also cause clogging of the pores and breakouts so it's important to maintain a good cleansing routine throughout the winter months. 
CLEANSE: OAT CLEANSING BALM
A rich cleansing balm that melts away makeup and impurities without drying the skin.Formulated with Oat Kernel Oil, a rich, natural Oat Oil which hydrates and moisturizes the skin and effectively removes SPF- perfect as a first cleanser in your double cleanse routine. Also contains Colloidal Oatmeal which contains a high level of skin beneficial natural actives, making it a must have cleanser to soothe irritated skin and reduce redness.
ADD: HYDRATION
Changes in season affect the skin's ability to hold moisture and, at worst, compromise the skin barrier. Introduce hydrators to your routine to support through the season and prevent longer term damage. Our Hylauronic Acid is a hero hydrator for all skin types and can be applied after cleansing for a daily boost. 
This easily absorbed super serum works across multiple layers of the skin, hydrating your skin, helping it appear plump and smooth, while reducing the appearance of fine lines.
Hyaluronic Acid Serum is a powerful moisture-binding ingredient that works beneath the skin surface and can hold up to 1000x its weight in water. ​ Ensuring your skin is hydrated is essential for it to look healthy, therefore it's a must have step in every recipe! 
PROTECT: SKIN BARRIER
When the skin dries out or is exposed to extreme heat (such as hot showers) it can leave the skin barrier or epidermis compromised.  The skin barrier is responsible for protecting the deeper layers of the dermis as well as what's beneath in our bodies. Damage to this layer can require longer regenerative treatments so prevention of damage is key to your routine. Learn more about how to support and protect the skin barrier.
This 3% blend of Ceramides works overnight at various levels of the skin to target dehydrated skin and help it appear plumper by morning.
Naturally found in the skin, Ceramide is the glue that binds skin cells together, helping the skin's barrier feel rehydrated, supple and protected. This nourishing cream treatment is also formulated with a 2.5% multi-molecular Hyaluronic Acid, giving an all over surge of skin plumping hydration. 
SPRING/SUMMER
Whilst we welcome the sunshine and Vitamin D boost of summer, the warmer months can impact our skin with an increase in sebum production, needed for increased UV protection plus extra hydration.   
CLEANSE: THE ULTIMATE DOUBLE CLEANSE DUO
Sweat and increased sebum production which can mix with dirt and block the pores of the skin resulting in breakouts and blemishes. It can be good to adopt a double cleanse routine to ensure our pores are cleared.
A good regime begins with a solid cleanse and sets skin up for the remaining steps in your routine, which is where double cleansing can come in. Our Oat Cleansing Balm is a rich cleansing balm that melts away makeup and impurities without drying the skin. Formulated with Oat Kernel Oil, a rich, natural Oat Oil which hydrates and moisturizes the skin and effectively removes SPF- perfect as a first cleanser in your double cleanse routine. Follow with our Fulvic Acid Cleanser - a luxurious gel cleanser gently exfoliates to reveal a brighter, healthy looking complexion whilst removing makeup, including eye makeup.
ADD: MADECASSOSIDE MASK
Redness, whether from sunburn or temperature can be a concern during the warmer months. Our Madecassoside Mask has a cooling and hydrating effect to counter the flushes.  
Reset your skin in 10 minutes with this 2-in-1 super ingredient mask & treatment.Madecassoside, a component found within Centella Asiatica, helps to reduce inflammation, reduce redness and itching. Provides instant cooling & hydration to stressed or overworked skin.

ADD: SPF
SPF should be used all year round as UV damage is not just prevalent in the warmer months. When the sun is shining SPF should be reapplied more regularly especially if spending more time outdoors. We recommend applying every couple of hours in the Summer months to ensure its efficacy. 
Other tips for your skincare routine throughout the year 
Be conscious of using electrical devices to adjust your temperature - they can dry the air causing your skin to dry out and dehydrate. If it's unavoidable such as at work, keep some moisturizer with you and reapply regularly.

Whilst a scalding shower can feel like the ultimate way to warm up, or an icy plunge on a hot day, be aware of the impact of sudden temperature changes on your skin. These extremes can cause damage to the skin barrier which in turn impacts the skin's ability to retain moisture resulting in extended dryness or irritation. 

Drink lots of water - keep your skin hydrated from the inside out

During warmer months, if you feel comfortable, reduce the amount or frequency of make-up worn and opt for non-comedogenic formulas to help prevent the pores becoming clogged. 

Protect your skin from sun damage in the summer by covering up and longer layers. 

 
Want some assistance on how to update your routine with the seasons? Contact the team at #askINKEY here.