Mandelic Acid : What you need to know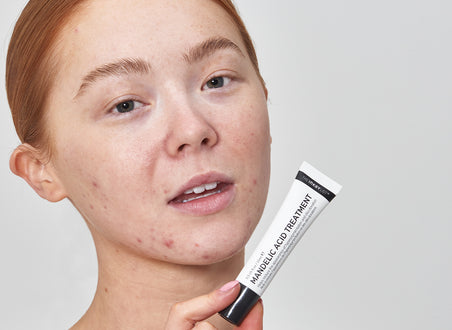 Introducing your new hyperpigmentation hero - Mandelic Acid Treatment. A member of the Alpha Hydroxy Acid family, we've formulated this gentle treatment to target marks and scarring caused by breakouts as well as pigmentation concerns. 
WHAT IS MANDELIC ACID? 
Mandelic Acid is derived from bitter almonds and, whilst still potent, has a large molecule size making it suitable for sensitive skin as it penetrates the surface at a slower rate, causing less irritation. We've focused on this key ingredient because of its proven melanin inhibiting benefits to help reduce dark spots, hyperpigmentation & post acne marks. Alongside prevention, Mandelic Acid acts as an exfoliant, increasing cell turnover to even the skin tone. 
In our lightweight formula, we've combined 10% Mandelic Acid; 0.1% Retinol and Glycerin to create a powerhouse combination that targets discoloration and dark spots by subtly exfoliating, encouraging natural cell turnover, whilst keeping the skin hydrated. 94% of people studied agreed the appearance of dark spots and  hyperpigmentation were significantly reduced and skin tone appeared more even.
HOW DO I USE MANDELIC ACID TREATMENT?
As an AHA, we recommend using this in the PM of your routine after cleansing and hydrating and followed by serums and moisturizers.
It is compatible with other AHAs such as Alpha Hydroxy Acid, Glycolic Acid Toner, Lactic Acid and Apple Cider Vinegar, as well as Vitamin C and Retinol Serum. If using alongside Retinol Serum, be aware that this formula contains Retinol and you may need to adjust frequency of use or alternate days of use and build up the skin's tolerance. 
If you are wanting to add Mandelic Acid to your routine (or any other new product), we recommend patch testing. Apply a small amount of the product on dry cleansed skin behind the ear or on your inner arm. Wait at least 24 hours to see if any irritation occurs. If you notice any irritation such as redness, itchiness or burning, rinse off and discontinue use. Please note, it can take up to 72 hours for a reaction to present itself.
We recommend you consult a doctor or dermatologist if you're unsure of compatibility with any prescribed skincare products. 
GOOD TO KNOW…
Mandelic Acid can cause sensitivity to the sun so make sure you incorporate an SPF into your morning routine.

 As an AHA, we recommend doing a patch test 24 hours before using in your routine to check your skin's reaction. 

When first using, build up the frequency of use in your routine to avoid over exfoliation which could damage the skin barrier.

Due to its regenerative properties, Mandelic Acid can also be used to target acne, even skin texture and reduce the appearance of fine lines. 

Mandelic Acid is a great alternative if you experience irritation from Glycolic Acid Toner.

The Alpha Hydroxy Acid family are plant or animal derived ingredients which function to loosen the connection between surface skin cells to 'exfoliate' and allow them to shed. Their primary functions tend to focus on tone and texture for even and smooth looking skin. 
If you'd like more information on our Mandelic Acid Treatment or to build it into your recipe, contact the team at askINKEY.