Do I need to use a toner?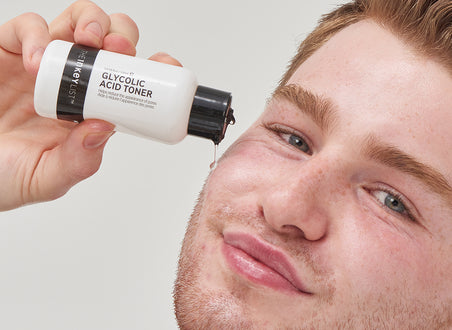 What is a toner?
Toners have come a long way. Historically, they have been rich in alcohol and rather astringent in nature, meaning most formulas could be stripping and drying. However, toners have now become an excellent step to add into your routine thanks to how they've progressed, as they work to deliver a range of benefits to skin and come in all different forms. 
A liquid toner is typically used after cleansing and before serums and moisturizers, and can prep skin for these later steps, while also removing excess oil and makeup that may have been missed by your cleanser as a supplementary step.
Why should I use a toner in my routine?
Toners have an array of benefits, and are a great supplementary step to fit in around cleansing, hydrating, treating, and moisturizing, and spf (in the mornings!). 
Depending on what you feel your skin needs more of, toners can provide that extra helping hand. They come in many forms, including those that hydrate and nourish skin with gentle, barrier-building ingredients, and exfoliating toners, which make incorporating acids into a regime easier and more effective than ever. 
Oily, acne-prone skin will benefit most from these exfoliating toners, as they can help to prevent excess oil and work towards clearing up blemishes and breakouts. 
How to add toner into your routine
As mentioned, a toner slots in after cleanser and hydration, and before the rest of the steps in your routine. Exfoliating formulas are best used in your PM routine, as they can increase sun sensitivity. We recommend starting out with these 2-3 times a week rather than nightly, as they are best introduced slowly as with any active ingredient that's new to skin.
We recommend starting your routine with an effective cleanser, whether it's the Oat Cleansing Balm, Hyaluronic Acid Cleanser, or one of our other cleansers. Now apply a layer of Hyaluronic Acid Serum for a hit of hydration. 
Next, reach for your toner, which can help to boost the work done by your cleanser, and prep skin for what comes next. Glycolic Acid Toner is an excellent choice for oily or acne-prone skin, as it helps to reduce the appearance of pores and blackheads while also promoting a brighter, smoother complexion. 
For those with dry or sensitive skin, our PHA Toner is best. Polyhydroxy acid is made with larger molecules, meaning it does not penetrate as deeply into skin. The toner works to remove dead skin cells from the surface, while also locking in moisture. 
Finish up your routine with any preferred treatments, and lock everything in with a good moisturizer. 
Find out more about how to build the perfect basic skincare routine for you with our latest guide.