Choosing the right cleanser for you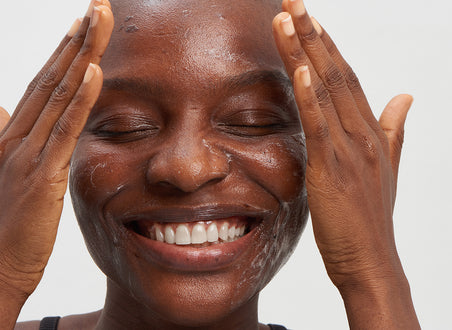 Cleansing is one of the most crucial pillars of a skincare routine, if not the most important. A good regime begins with a solid cleanse, and sets skin up for everything that follows, from treatment serums to protective SPFs. It's also a must if you wear makeup or SPF (the latter of which you should be every single day); ensuring skin is clean and product-free before bedtime is essential, which is where double cleansing can come in. Read on to discover our ultimate cleansing guide. 
CHOOSING THE RIGHT CLEANSER FOR YOUR SKIN TYPE
Finding the ideal cleanser depends on a whole host of things, including your skin type and own preference. 
Oily skin
Traditionally, oily skin types benefit from opting for a lightweight cleanser that won't clog pores or overwhelm acne-prone complexions. However, the cleanser in question still needs to be hardworking enough to eliminate excess oil and effectively clean the face. A lightweight gel works well, and is particularly refreshing during those hard early mornings!
Tempting as it may be, it's crucial to stay away from stripping ingredients that promise to dry out acne or eliminate oil. These can often do more harm than good, and a gentle cleanser is a far safer option. If you do want to use a cleansing formula with active ingredients, opt for something like salicylic acid, which is excellent at tackling blemishes. 
If you want to read more about how to treat oily skin, read our Oily Skin 101 guide Likewise, our Acne 101 feature will help to target blemishes. 
Dry skin
Dry skin craves moisture, which lovely comforting cream cleansers can be excellent for. However, if you don't like a cream texture, just look for certain key ingredients in your cleanser instead. These include the likes of hydrating Hyaluronic Acid, glycerin, or ceramides to protect and reinforce the skin's barrier that locks moisture in. 
The worst thing you can do for dry skin is over-exfoliate or bombard it with harsh actives. Dry skin is often sensitive and more prone to reactions than over types. For that reason, we recommend sticking to gentle, comforting formulas to support and nourish. 
If you'd like to understand your dry skin a little more, check out our guide on dry vs dehydrated complexions. 
Combination skin 
Combination skin, or skin that's considered 'normal' (ie. it does not have one overriding major concern) can actually be the most difficult to care for, as there are several different factors at play here. For example, with combination skin types that may experience oiliness on the t-zone and dry cheeks, it's challenging to know which concern to tend to as a priority. In general, a gentle yet effective cleanser is the way to go here. Balancing formulas in lightweight textures are great, and ingredients such lactic acid work to tackle oil, while also never stripping dry areas. 
If you don't have any obvious skincare concerns, it's about experimenting with different formulas, which 'normal' skin types have the privilege of being able to do. Something that contains vitamin C is a safe bet, as it brightens and protects from outside aggressors like pollution. 
In general, we recommend choosing a wash-off cleanser for morning time, and an additional balm or oil cleanser (ie. something a little more heavy duty) for night time. Learn more about double cleansing below! 
THE INKEY LIST'S BEST FACE CLEANSERS
FULVIC ACID CLEANSER
The INKEY List's newest cleanser, this brightening formula harnesses the power of Kakadum plum, which is rich in vitamin C. With a high antioxidant level, this is great for city-dwellers, as it helps to protect skin from things like pollution. The Fulvic Acid Cleanser also lightly exfoliates, but is gentle enough to remove eye makeup at the end of the day. A great cleansing option if you want to double cleanse but only want to pick up one product.  
OAT CLEANSING BALM
Our beloved Oat Cleansing Balm is a must-have for double cleansing enthusiasts, or for anybody with dry skin who's craving a rich, luxurious and comforting formula. It utilises Oat Kernel Oil, a rich, natural Oat Oil that moisturises and hydrates skin in need. This hero product is suitable for any skin type. 
SALICYLIC ACID CLEANSER
A saviour to oily or acne-prone skin, INKEYs Salicylic Acid Cleanser targets everything from enlarged pores to blemishes. Whilst effective, the cleanser is still gentle enough to remove makeup, and its non-drying nature means it won't bother combination skin that has dry areas. Use this in the morning or as your second evening cleanse. 
View all The INKEY List Cleansers
HOW TO DOUBLE CLEANSE
Double cleansing, hailed from South Korea and Japan, is now considered a mainstay in modern cleansing. But what is it and who should be giving it a go?
Simply put, double cleansing is the act of cleansing your skin twice, one wash right after the other. It is usually associated with the evening time, and can most benefit you when done before bedtime. Most commonly, people who double cleanse begin with an oil or balm-based product that emulsifies when water is added, making the removal of makeup easier than ever. This is the first cleanse. 
The second acts as a way to actually clean the face once skin is free from makeup. This means ensuring there is no excess product, dirt or pollution build up on the face, and preparing the skin for the next steps in your routine. For this reason, second cleanses are often done with a wash-off cleanser in a gel, foam, or cream texture. 
In terms of who can really benefit from double cleansing, it's those who wear makeup during the day. That said, if you use an SPF on your face (which you really should be at the start of every day), a double cleanse is also recommended to remove this. Double cleansing can be really beneficial also for oily skin types, belonging to people who don't feel a single cleanse is effectively cleaning their face. 
So to double cleanse or not to double cleanse? Well, we think it's a solid technique for your evening routine, particularly if you fit into one of the above categories. And if you really don't want to purchase more than one cleanser to try it, just give it a go using your one formula twice!
FACIAL CLEANSING TOP TIPS
Keep water tepid 
The correct water temperature to use is tepid, mild water that's not too hot and not too cold. Boiling hot water is definitely worth avoiding, as it can dry out skin and further aggravate your face.
Cleanse after brushing your teeth
This may sound like a very odd tip, but it's one worth paying mind to, especially if you're prone to spots on your chin. Brushing your teeth often means getting toothpaste everywhere! The left over residue from toothpaste can not only can counteract the effects of your cleanser but may also cause irritation if not washed off so we recommend you wait to cleanse until afterwards. 
Skin should be damp sometimes, dry other times
When it comes to whether you should apply cleanser to dry or damp skin, it depends on the type of cleanser you're using. Balms and oils are best applied to dry skin, adding a little water to emulsify as you go. On the other hand, wash off formulas like gels and creams are ideal on already-wet skin. 
Want to speak someone about what cleanser is right for you or find out more about our cleansers? Contact the team at #askINKEY or create your own personalized routine with our Recipe Builder.