|
Best and Worst Ingredients for Oily Skin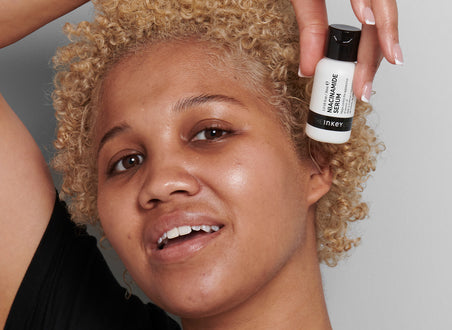 Slick, shiny or greasy? If any of this sounds familiar, this one's for you. Oiliness in skin can lead to breakouts, dullness, enlarged pores, and more. Thankfully, research has shown that you can regulate and maintain excess oil with a good skincare routine.


What causes oily skin, exactly? 
Skin becomes oily when pores produce too much sebum. Many things can cause sebum production to go into overdrive including hormones, stress, pollution, or DNA (looking at you, oily skin types). 
A little oil is healthy for skin, sebum helps maintain a supple and youthful look. Too much oil clogs pores, leading to breakouts and shine. But don't worry—with the right ingredients, you can control excess oil.


The Best Ingredients for Oily Skin
Niacinamide
This pore-reducing powerhouse controls excess oil, reduces the look of pores, and fades post-acne marks. Our Niacinamide Serum has a naturally occurring B3 vitamin that helps to effectively reduce excess oil, prevent blemishes, and ease redness.
InkeyTip: Niacinamide and retinol work even better together. Apply Niacinamide Serum first, then follow with Retinol Serum. 


Hyaluronic Acid
Yes—oily skin needs hydration too. There's a common misconception that oily skin is already too hydrated, but actually skin will produce extra oil when it's feeling dehydrated so often it's the reverse. A lightweight, non-greasy Hyaluronic Acid Serum draws water into skin and holds it there without clogging pores. 
InkeyTip: Use hyaluronic acid before using retinol to prevent any potential dryness.


Salicylic Acid
Excess oil causing breakouts? Enter: salicylic acid (aka BHA). This exfoliating acid dissolves dead cells on the surface of skin and deep within pores. Start your routine with a gentle, non-drying Salicylic Acid Cleanser to prevent gunk from building up and help the rest of your treatments absorb better. 
Retinol
This ingredient is most known for its anti-aging benefits, but it does so much more. Retinol delivers youthful results because of its ability to accelerate cell turnover. This turnover sheds dead cells, which clears clogged pores, keeps oil production in check, and restores radiance. We recommend this Retinol Serum for oily skin.
InkeyTip: New to retinol? Go slow. This is particularly important if you have sensitive skin. Patch test first and then ease into 2-3 times a week before increasing usage. Make sure you wear sunscreen the following day to avoid damaging the skin.
 
The Worst Ingredients for Oily Skin
Because just as important as what to add to your routine is what to avoid. 


Occlusive Moisturisers
For oily skin types, the texture of your moisturiser is critical. A rich cream will act as an occlusive and trap oil into skin. Occlusive refers to a formula that forms a seal over the surface of your skin to prevent water loss. While that's great for dry skin types who have a harder time holding onto hydration, these can be too heavy for oily skin types. 
Instead, opt for a gel or water-based moisturiser that will hydrate without the weight. Omega Water Cream is a lightweight, oil-free moisturizer enhanced with niacinamide for oil control. 


Alcohol-Based Products
We cannot say this enough: avoid these at all costs. Alcohol strips the skin of natural moisture, which might remove oil temporarily but will cause more sebum production long-term. 


Harsh Physical Exfoliants
Exfoliation is key for oily skin but we recommend sticking to gentle chemical exfoliants. Physical exfoliants can damage the moisture barrier and lead to dryness that causes skin to produce more oil. 
Instead, use a gentle Glycolic Acid Toner to clear away excess oil. Always follow with a moisturizer to prevent dryness. 


Any more questions about oily skin? Our askINKEY team is available to chat 24/7.