What is the best skincare for ageing skin?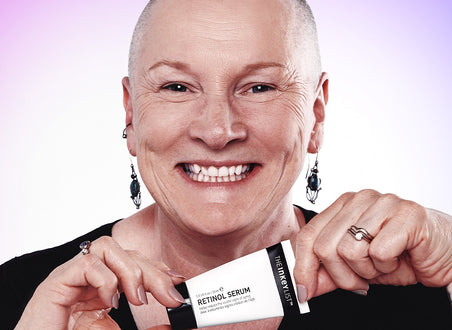 As we age, our skin can change and natural cell production and regeneration begins to slow down which brings new concerns to the surface. This generally begins to take place from the age 25+ , which is when we recommend introducing and adjusting your regimen to support cell rejuvenation.  
On a cellular level, production of collagen and elastin, the fundamentals of the skin's structure, reduces which can impact the firmness, smoothness and appearance of fine lines and wrinkles on the skin's surface.
Going deeper, this weakening of this structure can impact the skin barrier which is where moisture is retained, the effect of which can be dehydration and dryness. 
As skin cells slow down in reproduction, you may also notice scarring and pigmentation lingers for longer as well as issues around the brightness of the skin as old layers of skin are taking longer to naturally remove. 
Whilst this sounds like a lot, it is more of an indicator of the necessity to adjust our routines as we age to support the skin's natural processes as they begin to slow down and target the fresh concerns that may arise. 
BEST SKINCARE ROUTINE FOR AGEING SKIN 
With these key areas highlighted at every layer, here's a few of our hero products to care for ageing skin.
HELP HYDRATION: Hyaluronic Acid Serum
As we get older, our skin barrier can begin to weaken without proper care which can mean less moisture is retained beneath the skin's surface leaving it dehydrated. Our hydration hero is Hyaluronic Acid which helps the skin hold up to 1000x its weight in water helping it to appear plump and smooth whilst reducing the appearance of fine lines and wrinkles.
SUPPORT SKIN CELL REGENERATION: Retinol Serum
Well studied for its anti-ageing properties, Retinol supports the skin's cell regenerative process which can slow down with age. It reduces the appearance of fine lines and wrinkles as well as evening out skin tone and texture. Recommended use for ages 25+. 
BOOST COLLAGEN PRODUCTION: Collagen Booster
As collagen production slows down with age, we can harness our skincare products to fill the gap in these areas. Our Collagen Boost makes the skin appear plumper and firmer, helping to reduce the appearance of fine lines and wrinkles. The Matrxyl 3000™ peptide in this formula is smoothing and hydrating and mimics the effect of what natural collagen would do to your skin.
REDUCE WRINKLES: Peptide Moisturizer
This dual peptide formula reduces the appearance of fine line & wrinkles and balance skin's natural oil levels. With ageing, our Peptide Moisturizer helps to support natural collagen and hydrate skin, leaving skin looking youthful.
SKIN BARRIER SUPPORT: Ceramide Night Treatment
Ceramide is the glue that binds skin cells together and, working in conjunction with collagen and elastin, helps the skin's barrier feel rehydrated, supple and protected. This nourishing Ceramide Night Treatment has plumping and protective properties for skin support. 
If you want to find out more about the best skincare for ageing skin and how to adjust your routine, contact us at askINKEY.
Written by one of our askINKEY skincare advisors
Our askINKEY team are available 24/7 on our live chat. A friendly bunch, all experts with deep product knowledge, ready to make skincare as simple as possible. Whether you are an ingredient expert or starting your journey, no question is too big or too small, no judgement or jargon, we're here to help and be part of your journey.
Share the article with others