Serums: what are they and which one is right for me?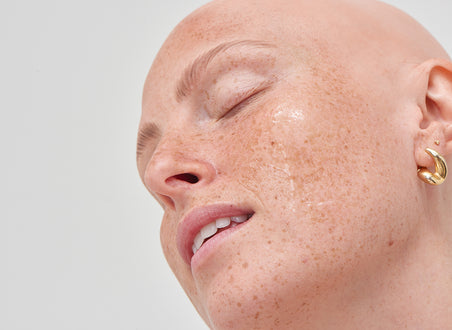 When building your routine, you'll likely come across serums as a way to incorporate key active ingredients but what exactly are they and how can you use them?
A serum is defined by a number of things - its place in your skincare routine, consistency and whether it contains active ingredients. 
Used after cleansing and before moisturizing, a serum has a thicker, viscose consistency and typically uses a key active ingredient, usually in a high percentage, with the aim of targeting a specific skincare concern. Within this middle section of your routine, serums can be layered AM and PM with other serums and exfoliating acids for a tailored, targeted routine. Be aware to check for any layering contraindications to avoid irritation to your skin. Learn more here ; What products should I not mix together? 
High concentrate for quicker visible results, a serum contains smaller and a higher quantity of active molecules for an increased chance of getting through the skin's surface to take effect.  
Whilst serums aren't essential to your skincare routine, we see this as the space to tailor your routine and tackle individual concerns such as breakouts, signs of ageing, hyperpigmentation and dryness.
WHICH SERUM IS RIGHT FOR ME?
When choosing a serum for your routine, we recommend looking at the concern you wish to target as well as the suitability for your skin type. If you need assistance with this, you can use our Recipe Builder or get in touch with one of the askINKEY team for more advice. 
Serums usually target a specific concern and result such as anti-ageing, brightening, hydration, texture, pigmentation, protection or breakouts. Here are our hero serums for some of the more common skin concerns: 
Anti-ageing: Retinol Serum is a staple serum for the over 25s. This slow release formula helps target the appearance of fine lines and wrinkles with less risk of irritation. 
Also try: Collagen Booster ​​Uses the Matrxyl 000™ peptide, to smooth and hydrate whilst mimicing the effect of natural collagen in the skin. Combined with Syn-Tacks™ Dual Peptide skin appears plumper and firmer with a reduction in the appearance of fine lines and wrinkles.
Brightening: 15% Vitamin C + EGF Serum, contains 15% Ascorbyl Glucoside (Vitamin C) a powerful multifunctional antioxidant, helps to protect skin from damage caused by environmental pollution and brightens the skin tone. 
Hydration: Hyaluronic Acid Serum works across multiple layers of the skin, hydrating and helping it appear plump and smooth, while reducing the appearance of fine lines.
Redness: Glucoside Serum, reduces redness, inflammation and rosacea, whilst keeping skin calm, soft and moisturized and contains Endethelyol 2%.
Also try: Niacinamide Serum, a naturally occurring B3 vitamin helps to effectively reduce excess oil, blemishes and redness.
For more knowledge around serums and to build your own recipe, contact the askINKEY team.