Salicylic Acid Or Benzoyl Peroxide: Which Is Better For Acne?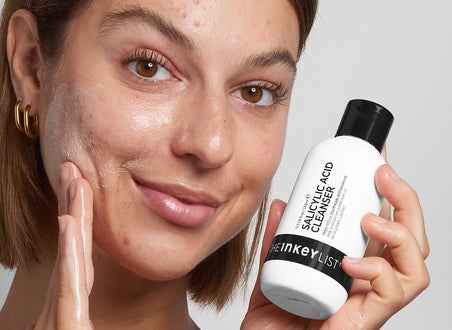 If you struggle with breakouts, you've probably heard of these ingredients before: Salicylic Acid and Benzoyl Peroxide. This is for good reason - both are key for keeping skin clear and smooth, but they do so in totally different ways. Which one is best for addressing your acne? Let's find out.  


First of All, What Is Salicylic Acid?
Salicylic Acid is a Beta Hydroxy Acid (BHA) that is uniquely able to work beneath both on skin's surface and within pores to dissolve dead cells and buildup that can lead to acne. This ingredient is particularly effective because it's oil-soluble and therefore able to go deep inside pores and remove breakout-causing sebum. Clogged pores can lead to breakouts, so getting rid of impurities within them is an important step in keeping skin clear.


Next, What is Benzoyl Peroxide?
Benzoyl Peroxide is a chemical compound that kills acne-causing bacteria. It also helps open pores to release clogging buildup while reducing redness which makes it ideal for treating persistent red, painful bumps. Another major cause of acne is bacteria on the surface of skin, so regularly getting rid of this bacteria with Benzoyl Peroxide will not only treat existing breakouts but help prevent future ones as well. 


Which One Should You Use?
The best part about both ingredients is that you don't need a prescription for effective skin-clearing strengths.  Really great options are available, and with a click of a button and you can start your acne-fighting journey and have it delivered to your door. So where should you start?
For those with mild, occasional blackheads and pimples or to help prevent future breakouts, we recommend introducing a daily salicylic acid to maintain clear skin. Start your skincare routine with a Salicylic Acid Cleanser that gently removes SPF, makeup, excess oil, and pore-clogging impurities at the same time. Another way to incorporate Salicylic Acid (BHA) into your routine is with a 2% BHA Serum that delivers potent-but-gently blemish-fighting benefits. 
For those with stubborn, more severe acne like persistent whiteheads and hard, inflamed bumps we recommend 5% Benzoyl Peroxide - a strength that's been shown to be effective in relieving stubborn acne. 
Need some more help figuring out which is best for you? Our askINKEY team is here to help or you can try our Recipe Builder quiz.