Real Results With INKEY: Cheek & Chin Acne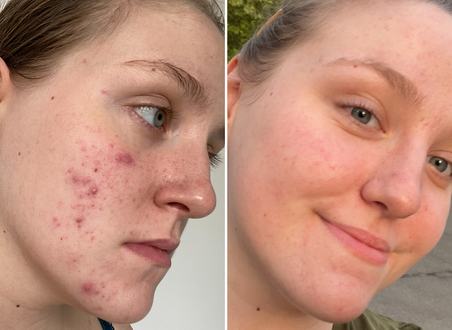 Meet, Real Results with INKEY. This is our dedicated series where we pass off the mic to our very own customers, who will share their reviews and recommendations on some of our products. 
For this month, we're getting cheeky. Quite literally. This article is going to focus on cheek and chin acne, but first, let's debunk any shame that comes with it. It's important to note that cheek and chin acne is actually one of the most common types of acne. It's often caused by fluctuations in hormones, which results in overstimulation of the oil glands and clogged pores. 
The key is to stick to a skincare routine and give it time to show results. Our community is proof that good things come with time! Below, we've featured some of our community members who have shared with us their progress photos of their current skincare journeys with cheek and chin acne. We love to see the evolution of their before and after photos! 
Read on below and to learn more about what their skincare goals are and which products they are using to help reach their goals.


CALLIE
Callie has used INKEY products for 2 years. She suffered with acne on her cheeks which included whiteheads. Callie tackled this using Salicylic Acid Cleanser AM and PM, Glycolic Acid Toner to gently exfoliate often and Succinic Acid Treatment to spot treat acne. She also used Hyaluronic Acid Serum for hydration, followed by 15% Vitamin C and EGF and Symbright Moisturizer to brighten her skin post-acne.

CHLOE
Chloe made a Recipe on her myINKEY profile and used her recommended skincare routine. These were her results after 3 months and she says she's never felt so confident in her skin! Chloe used Succinic Acid Treatment to spot treat her acne, and improved her skin barrier and hydration using Hyaluronic Acid Serum and Omega Water Cream moisturizer.
SHANNON
Shannon has also used INKEY products for a long time and has documented her skincare journey on TikTok. She suffered with breakouts on her cheeks and chin, so she used; Salicylic Acid Cleanser AM and PM to unclog pores, Niacinamide Serum to control excess oil, Beta Hydroxy Acid (BHA) Serum for regular exfoliation, Succinic Acid Treatment to spot treat breakouts and Omega Water Cream to hydrate and protect her skin barrier. 

Feeling inspired to share your own skincare journey? Share it with us on social media @theinkeylist on Instagram and TikTok! And if you're not sure where to start, take our quick Recipe Builder quiz for your tailor-made skincare routine, or chat to the team at 
askINKEY.