Polyglutamic Acid: Better Than Hyaluronic Acid?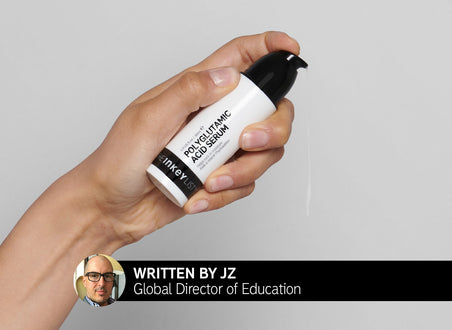 It's a fact, hydrated skin is healthy looking skin. You may know the hydration hero ingredient – Hyaluronic Acid – but what does Hyaluronic Acid do, you ask? it's a magnet for moisture that binds water to plump up skin, while minimizing the appearance of fine lines and wrinkles. Present in our bodies, "HA" works beneath the skin surface to provide both instant and long terms benefits of skin looking and feeling more hydrated and plumper. Because of these benefits, and more, at The INKEY List, we recommend it to everyone – as it is an optimal hydrator for all skin types. Our Hyaluronic Acid Serum is so popular that one is sold every 20 seconds globally. But have you heard of the powerhouse moisturizing ingredient Polyglutamic Acid? If not, it is an ingredient to consider incorporating into your skincare recipe. 
Not as well-known as Hyaluronic Acid, Polyglutamic Acid, commonly abbreviated as "PGA," is believed to have 4x greater moisture retaining benefits than HA. If you have dull, dry, or dehydrated skin, you should consider incorporating Polyglutamic Acid Serum into your skincare recipe. 


WHAT IS POLYGLUTAMIC ACID?
Sourced from soybeans, Polyglutamic Acid (PGA) was originally introduced as a wound-healing ingredient over 80 years ago. PGA, an amino acid polymer, comes from Glutamic acid; it is created when many glutamic acid molecules are linked together.  


WHAT IS THE DIFFERENCE BETWEEN POLYGLUTAMIC ACID AND HYALURONIC ACID?
While PGA is an acid, it does not exfoliate, but has similar benefits to Hyaluronic Acid – both hydrate the skin but do so differently. Polyglutamic Acid, which is water-soluble, will not penetrate deep into the skin's layers due to its large molecular size. It moisturizes the surface and minimizes the evaporation of water by creating a thin, breathable film on the skin surface that reduces water from escaping. It is the perfect primer for foundation – smoothing the skin surface and leaving it dewy and glass-like. In comparison, Hyaluronic Acid, "HA," penetrates the skin quickly and deeply to draw water to the surface of your skin, plumping up the skin, improving the appearance of fine lines and wrinkles and ensuring your skin's overall health. 
To analogize, Polyglutamic Acid is like a "snorkeler," working above the surface. Hyaluronic Acid is similar to a "diver," working below the surface. 


POLYGLUTAMIC ACID VS HYALURONIC ACID
: CA
N YOU USE HYALURONIC ACID AND POLYGLUTAMIC ACID TOGETHER? WHAT ABOUT OTHER INGREDIENTS?
Yes! The INKEY List's Co-Founder, Mark Curry, says:
"Hyaluronic acid can still be used as it will hydrate the lower levels of the skin. This has the added benefit of helping the skincare that follows to penetrate deeper." 
By adding PGA into the mix, you're hydrating and plumping the top layer of skin and creating a seal that ensures maximum hydration. The overall result? Hydration at different levels of the skin. 
PGA can be combined with Retinol Serum, Niacinamide Serum, and Vitamin C Serum without compromising their benefits. 

THE INKEY LIST POLYGLUTAMIC ACID
Our hydrating serum is formulated with two key ingredients: 3% Polyglutamic Acid complex specifically designed to enhance skin moisturization and 2% Invisaskin maintains moisture levels in the skin. If you are looking to combat loss of skin hydration or to achieve a luminous, glowy finish for foundation, Polyglutamic Acid is an ingredient your complexion might need - as demonstrated by The INKEY List Co-Founder, Colette Laxton, below!
Want to find out more about using PGA in your skincare routine? Chat to our #askINKEY team!