How to tell if your skin is dehydrated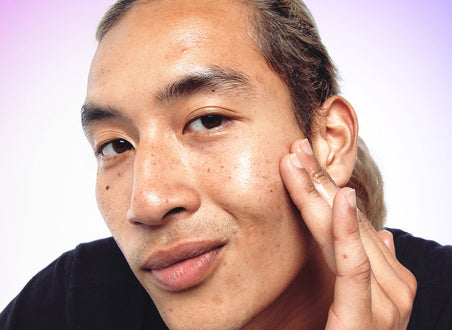 Dehydration is incredibly common, but many find it hard to distinguish and thus to treat effectively. Our simple guide explains everything you need to know about dehydrated skin, in easy-to-understand, bite size pieces of information. 
How to tell if you have dehydrated skin
The important thing to remember is that dehydration is a skin condition, rather than a type (such as dry skin). Dehydration is as it sounds; there is a lack of water in the skin, which can be caused by not drinking enough, along with other lifestyle factors (think a diet without water-rich foods, and central heating in the home). 
While dry skin often presents with flakiness and irritation, side effects of having dehydrated skin include an overall dullness, with dark circles and sometimes itchiness too. You may also begin to notice fine lines and wrinkles are becoming a little more prominent. 
Want to know if you have dry or dehydrated skin (or both)? Check out our guide.
Who can have dehydrated skin? 
As mentioned, dehydration is a condition rather than a skin type. This means that anybody can experience it, no matter what skin type you consider yourself to have. Surprisingly, this means even skin that's oily or combination can get dehydrated, which can make it harder to detect in some cases. For this reason, keeping skin hydrated is an essential step for everybody, no matter your age, skin type or other concerns. 
Discover your skin type here in our blog.
How to avoid and treat dehydrated skin 
Lifestyle changes such as drinking the recommended two litres of water a day, along with a water-rich diet (think plenty of fruits and vegetables) can make all the difference in preventing and tackling dehydration. You may also benefit from taking steps to minimise damage through keeping your shower water warm rather than boiling hot, and being selective with when you switch on the central heating. Keeping little bowls of water by the radiator (or even investing in a humidifier) is also something to try. 
However, the real changes you can make come down to your skincare routine, and in particular, the inclusion of Hyaluronic Acid Serum. Hyaluronic Acid is a favourite amongst dermatologists and skin experts everywhere, thanks to its ability to hold a thousand times its own weight in water. This means it can retain water molecules within the skin, maintaining hydration when you need it most. It's a naturally occurring molecule within the skin already, but can deplete as we age, meaning serums such as the bestselling Hyaluronic Acid Serum can work to keep skin topped up when applied topically. 
Every skincare routine can benefit from Hyaluronic Acid Serum, and not just in serum form. Hyaluronic Acid Cleanser boasts a unique formula of 1% Hyaluronic Acid complex and 1% Inulin compound, which works to deeply hydrate skin for up to 48 hours, and maintain your complexion's healthy skin barrier. In addition, it also removes makeup with ease, meaning you can use it as both your morning and nighttime cleanser. 
Find out everything you need to know about Hyaluronic Acid Serum. 
Other products to include in your dehydration-fighting line-up is Omega Water Cream, which contains hydration heroes glycerin, betain, and an Omega Fatty Acid Complex. It's ultra lightweight with a water-based gel texture, meaning it's great for oily skin that's experiencing dehydration. 
Caffeine Eye Cream and Polyglutamic Acid Serum are both also brilliant for all skin types experiencing dehydration, just like our Hyaluronic products and the new Omega Water Cream. While the eye cream targets dullness and darkness around the eyes caused by dehydration, the Polyglutamic Acid is an excellent addition to use on top of your Hyaluronic Acid Serum, to lock in even more hydration.
Want more information or help with your routine? Contact the askINKEY team or create your own personalized skincare routine with out Recipe Builder.