Omega Water Cream: What You Need To Know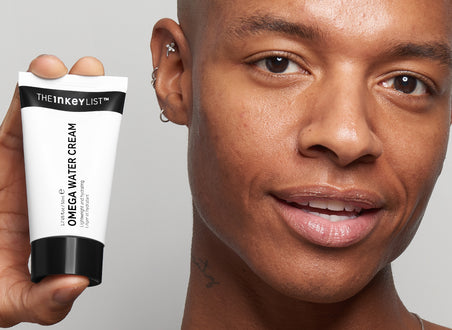 Not sure where to start with moisturizers? We don't blame you. This step of your routine is crucial for healthy skin, but there are endless options available and it can be hard to know which one is right for you. This is especially true for oily and acne-prone skin types, because while we know hydration is important, you also don't want to end up with a moisturizer that clogs pores, causes breakouts, or leaves skin shiny. Enter: The INKEY List Omega Water Cream. 


What is Omega Water Cream?
This lightweight, oil-free moisturizer is the answer to everyone's moisturizer questions. It's a water-based gel made with a barrier-supporting omega fatty acid complex and a combination of Glycerin, Betaine, and Niacinamide to hydrate, control excess oil, and even skin tone at the same time. The unique silicone-free formula immediately locks moisture in without weighing skin down or making it greasy.


What Are the Benefits of Omega Water Cream?
The main benefit of this best-selling formula is to hydrate and protect the skin's delicate barrier, while also controlling excess oil. This formula has been clinically proven to support a healthy skin barrier function and reduce the quantity of sebum in oily skin (aka the reason for excess oil) which makes it an ideal moisturizer for oily skin types. 5% Niacinamide helps to even tone, smooth, and improve the appearance of pores while glycerin locks in lasting hydration. 


Who Can Use Omega Water Cream?
This formula is nourishing for most skin types and concerns. This will absolutely not clog pores but will leave skin hydrated with the right amount of dewy finish. It also layers beautifully under makeup and with other products in your routine. However, while it keeps skin clear long-term we would be careful using this directly on active breakouts. Those with acne-prone skin using powerful treatments might need something more nourishing like the Vitamin B, C & E Moisturizer.  If your skin is feeling extra-thirsty or dehydrated, add a few drops of Squalane Oil or Polyglutamic Acid Serum for a dose of extra hydration before bed to wake up with radiant, revived skin.
Want to know more about Omega Water Cream and if it's right for you? Check out our FAQs or chat to askINKEY 24/7. 
Share the article with others