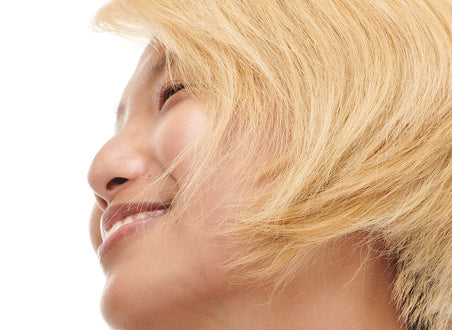 Dry and damaged hair can often get confused as both have similar symptoms including brittleness, breakage, neverending tangles, split ends, dryness and frizz. Despite the similarities on the surface, the cause, treatment and prevention are a bit more tailored. 
DRY VS DAMAGED - WHAT'S THE DIFFERENCE?  
Damaged hair occurs when the protein bonds within the hair structure break down. This can be  due to chemical exposure, heat, sun damage, environmental stressors such as pollution and even friction from styling/sleeping. Damage occurs on the cuticle level of the hair fiber which are the overlapping plates that cover the strand's central cortex. When these plates are compromised, it exposes the cortex causing strands to break and frizz - hello split ends. 
Damaged hair is often: 
Brittle / breaks easily

Frizzy

Easily tangles

Limp and dull
Dry hair is due to lack of or stripping of natural oils and moisture on the hair fibre which means it dries out. It can also be a result of the hair not retaining enough moisture or water due to damage or a lack of hydration caused by exposure to sun, chemicals such as chlorine, temperature and even the amount you wash your hair. 
Dry hair symptoms include: 
Dry and flaky scalp 

Rough/dry texture 

Lacks bounce 

Shedding
IS MY HAIR DRY OR DAMAGED?
Whilst the symptoms can be similar, the prevention and treatment are more specific for each ailment so it's important to identify the condition of your hair first. 
One recommended test to identify dry vs damaged is by taking a strand of wet hair, pulling at either end. If it stretches and bounces back - it's healthy. If it breaks or barely stretches - it's damaged and if it stretches but doesn't bounce back to original length, it's more dry than damaged. 
If your hair is damaged, repairing and protecting the hair structure is your objective. For dry hair, it's all about hydration and moisture.
HOW TO TREAT DRY HAIR & HOW TO REPAIR DAMAGED HAIR
From prevention to hydration, here's the hair care to help bring dry and damaged hair back to life. 
DAMAGED: PCA BOND REPAIR HAIR TREATMENT
When the bonds of the hair become damaged, this can make strands more susceptible to breakage. Our PCA (Pyrrolidone Carboxylic Acid) Bond Repair Hair Treatment is a lightweight fine spray mist that helps to repair, protect and strengthen hair bonds which may have been damaged by excessive bleaching, coloring, or heat styling.
Unique Granrepair Powerbond® technology penetrates the hair bonds which lack the regenerative properties of skin. The results are healthier, softer, less frizzy and stronger strands, with overall improved shine and bounce. Also in this formula is 0.2% Aquarich: an extract of Black Oats, rich in Polysaccharides and Amino Acids to help improve the structure of the hair, make it glossier and prevent split ends; 2% Crodasone™ which helps to protect hair from thermal damage and prevents cuticle cracking and splitting from heat e.g. blow-drying; 0.2% Heliogenol™: A concentrated Glycolic Extract of Sunflower Seeds, rich in Polyphenols, to help protect hair against damage caused by free radicals and UV rays and 2% Betaine to condition the hair leaving it soft and healthy.
We recommend this as a must-have for any keen stylers or if your hair colour changes regularly to keep the strands strength and integrity. 
HOW TO USE: Use as a post wash treatment. Shake well and spray on towel-dried damp hair, focusing particularly on the more damaged areas from mid lengths to ends. Leave in. Style as usual.
DRY: HYALURONIC ACID HYDRATING HAIR TREATMENT
As with its skincare counterpart, Hyaluronic Acid is a hero hydrator for your hair as well. This lightweight serum helps to reduce frizz and brittleness to improve shine, whilst protecting against pollution. Lack of hydration in the hair can be caused by a number of things, including over washing, water temperature being too high, using heated tools without heat protection or humidity. When your hair becomes dry, the hair cuticle is rough and open, causing hair to lose moisture and become frizzy.
HOW TO USE: Use as a post wash treatment. Shake  into  the  palm  of  your hand, massage hands together and work through wet or dry hair. Apply enough to thinly coat all of your hair. Leave on and style as usual or add to your shampoo/conditioner. Use 1-2 times a week. 
DRY / DAMAGED: CHIA SEED CURL DEFINING HAIR TREATMENT
Curly and wavy hair can require some extra attention, particularly if using styling tools and products to tame the mane. Curly hair has more bonds of an amino acid called cysteine: the more bonds between hair, the curlier the hair is but also more bonds to break. Curly hair also tends to be quite dry and in need of moisture and hydration.
Our weightless cream formula helps define, nourish and protect curls. Using a unique technology that helps define and prolong their bounce and natural shape by targeting the hair bonds, whilst providing hydration too. This weightless serum has been formulated to also help reduce, protect and strengthen hair against chemical damage and tame frizz.
HOW TO USE: Use as a post wash treatment. Pump  into  the  palm  of  your  hand,  massage  hands  together  and  work  through  wet  or  dry  hair.  Apply  enough  to  thinly  coat  your  hair (either dry, damp or wet).  Leave  on.  Style  as  usual. Use 1-2 times a week. Alternatively, you  can  use  in  between  washes  to  revive  flat or frizzy curls. Apply enough to use on chosen curls, leave on and style as usual.
HOW CAN I PREVENT DAMAGE AND DRYNESS?
If using heat styling tools, ensure you're using protective products before/after to create a layer around the hair fibres. Try our

PCA BOND REPAIR HAIR TREATMENT

for effective protection.

If colouring or using chemical treatments, include protective and replenishing treatments in your routine. PCA BOND REPAIR HAIR TREATMENT is perfect for this.
Chlorine from swimming pools and salt from the sea can affect the condition of the hair so take extra TLC when in these environments. PCA BOND REPAIR HAIR TREATMENT & HYALURONIC ACID HYDRATING HAIR TREATMENT are a must to replenish moisture and repair broken bonds when on holiday!
Be aware of weather, humidity and the change in seasons which can all impact the hair. Switch up your routine and incorporate oils/serums dependent on seasons and environment. The ultimate goal is always to maintain moisture & preventing damage. We recommend looking into  HYALURONIC ACID HYDRATING HAIR TREATMENT to maintain moisture, and PCA BOND REPAIR HAIR TREATMENT to prevent damage.

Hot water can dehydrate the hair so keep an eye on your shower temperature.

Hair can become more dry with age so keep an eye on any changes in your hair and build your routine around it. 

If you feel the frequency you wash your hair may be affecting its dryness, which is different for each individual, then try adding an extra rest day. Products used can also have an impact on how the scalp is producing oils so try adding/removing to check your hair's response. 
Want further information on how to keep hair healthy? Chat with the #askINKEY team here.