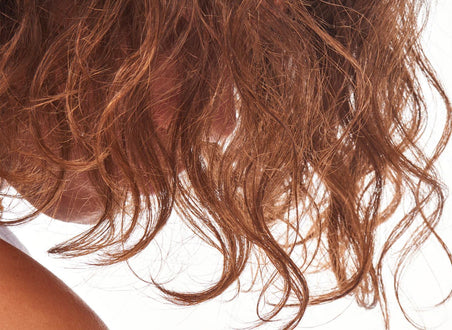 Whether it's the summery haze of humidity or the result of ongoing damage to the hair, frizz can find its way to all hair types. It occurs as the result of hair being dry, lacking moisture or unable to retain moisture in the hair shaft. This can cause hair to appear dull, lack sheen and be more prone to breakage. 
WHAT IS FRIZZY HAIR?
To understand frizz, you first need to understand the structure of the hair. The outermost layer is the cuticle which is like a protective barrier for the layers below. Beneath the cuticle is the very important cortex, which provides the texture, colour and strength of the hair fibre - essentially the blueprint for your hair type. Finally, beneath that, generally only in thick hair, is the medulla which is like the marrow and provides further strength and flexibility. 
It's the cuticle that is responsible for the frizz factor. The cuticle is made up of overlapping plates or panels. When it becomes dry, damaged and exposed to moisture, these layers lift up - allowing moisture to pass through into the hair shaft, unsettling the plate structure. When you're thirsty, you reach for the nearest drink right? Your hair is no different - when it's feeling parched it absorbs moisture from everywhere. However, when properly sealed, the cuticle is able to retain moisture sufficiently keeping the hair hydrated and smooth.
WHY IS MY HAIR SO FRIZZY?
There's a number of key factors that can generate frizz in every hair type...
ENVIRONMENT
Change of environment, such as when you go on holiday or the season's change, and the increase in humidity can have an immediate impact on the hair. You can't avoid the rain or tropical heat but covering the hair can create a physical barrier making it harder to absorb moisture.
DAMAGE
When the hair is damaged from appliances, chemicals or physical impact such as over-brushing or styling, it is more susceptible to frizz. Repair and protect with overnight treatments and post-wash care to maintain the strength and integrity of the cuticle. 
HAIR TYPE
The type and make up of your strands - whether it's fine, thick, curly or straight can impact how your hair responds to moisture as well as the impact of other stressors such as touch, heat or products. Knowing your hair type is also key to its recovery to allow you to choose the best product to support the cuticle. 
WHAT ELSE CAN IMPACT THE FRIZZ? 
HOT WATER
Hot water can strip the hair of natural oils which help keep the hair moisturized and the cuticle hydrated and smooth. Be mindful of the temperature when you're washing your hair keeping it at a mild warm or even cold. 
FRICTION: TOUCH AND TOWEL DRYING
Touching the hair, particularly when wet, can disrupt the cuticle causing it to lift up rather than lie flat. That included scrunching when applying product or towel-drying when you get out of the shower. Also try a silk pillowcase - it feels super luxurious and can benefit both your hair and skin by reducing friction! 
APPLIANCES
We may want to react to our frizz freak out by grabbing the nearest appliance to fix and style. Hairdryers, curling tongs and straighteners can strip the hair of moisture, making hair more prone to frizz. If you are using, keep the heat low and use a protectant spray or serum.   
OVERBRUSHING
As with touch, overbrushing causes friction and damage to the cuticle through physical impact. Displacing the overlapping plates and allowing moisture to fire up the frizz!
HOW TO MAKE HAIR LESS FRIZZY
THE INKEY LIST FRIZZ FIGHTERS
Hydration and keeping the cuticle smooth are the main objectives when seeking products to tame the mane. Products that create a barrier between the cuticle and the moisture in the air are essential.
PCA BOND REPAIR HAIR TREATMENT
Our hero frizzy hair treatment. PCA (Pyrrolidone Carboxylic Acid) Bond Repair Hair Treatment is an innovative at-home bond repair hair treatment that comes in the form of a lightweight fine spray mist that helps to repair, protect and strengthen damaged hair bonds. This creates a protective layer as well as deeper repair to prevent the cuticle being triggered into a frizz. 
This new treatment features a unique technology called Granrepair Powerbond® - a clinically proven compound that penetrates the hair fiber to strengthen damaged hair from within the hair shaft. It ultimately helps to repair, strengthen and protect them from damage caused by excessive bleaching, color dyeing, or heat styling. Targeting each type of hair bond differently, it works by helping to repair hydrogen and ionic (salt) bonds, which are damaged by excessive bleaching, dyeing, and heat whilst also protecting existing disulphide bonds from damage.
Unlike skin, hair lacks regenerative properties. Therefore, when deciding to bleach or color hair, it's beneficial to use a product like PCA, to help protect and maintain the hair's structural integrity. By supporting the core, it supports the outer layer of the hair to avoid damage and impact from moisture which results in frizz. 
HOW TO USE: Use post-wash spray on towel-dried damp hair, focusing particularly on the more damaged areas from mid lengths to ends. As a guide, we'd suggest spritzing 4-6 sprays through short, fine hair and 6-10 sprays for longer, thicker hair.
HYALURONIC ACID HYDRATING HAIR TREATMENT
We are sure you have heard of this ingredient for skin, but did you know it's also a hydration hero for hair too? When it comes to our carefully crafted hair care formula, we have slightly twisted it, to create a recipe that contains optimized water-retaining high and low molecular weight hyaluronic acids. These not only hydrate your hair, but also work to reduce frizz, brittleness and protect it against pollution. Alongside HA, this potent elixir boats 2% Resisthyal (to maximise shine as it counteracts brittleness), 1% Betaine to nourish and soften and 1% panthenol to hydrate. In clinical trials, 83% of testers claimed their hair looked less frizzy after four weeks of use.
Similar to its "cousin" in skincare, we'd recommend everyone to use this, as it's a fantastic multitasking lightweight serum, especially suitable for those in need to tame frizz but also who live in big cities and want to protect their hair against pollution. Resulting in a smooth and healthy shine and protecting against elemental aggressors, this hydrating hair treatment has a featherweight texture that 'sleekens' your strands without dragging hair down.
HOW TO USE: Use post-wash or alternatively, you can also incorporate this in your routine and use it with your shampoo and conditioner as a boost. Work through wet or dry hair applying enough to thinly coat all of your hair. Leave on. Style as usual. Use 1-2 times a week. 
HOW TO LAYER HAIRCARE
When it comes to haircare, layering is not just a styling thing. Just like skincare, layering your hair products is an effective way to maximise the results of your routine whilst also targeting multiple concerns. Find out How to Layer Haircare in our recent blog and discover other products in our Hair Collection.
Still feeling frazzled by frizz? Contact the team at #askINKEY or create your own personalized hair care routine with our Recipe Builder.