Beta Hydroxy Acid Serum : What you need to know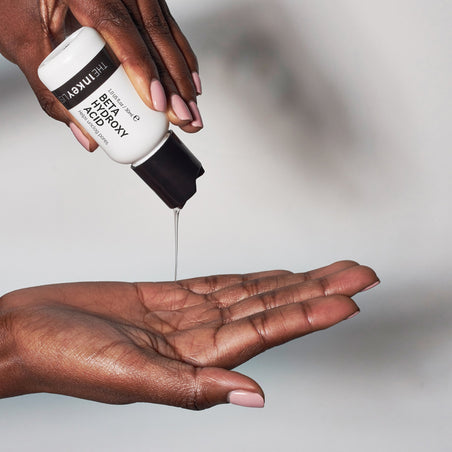 What are Beta Hydroxy Acids?
Beta Hydroxy Acids are oil soluble chemical exfoliators and a great choice for oily and breakout prone skin
They work deeper in the skin than Alpha Hydroxy Acids, and can help unclog pores and target blackheads. With anti-bacterial and anti-inflammatory properties, they help control inflammation and reduce the bacteria that causes breakouts. 
Salicylic Acid is the most commonly used Beta Hydroxy Acid in skincare and the ingredient to look out for! We use it in three of our top blemish busting products. 
This non-drying, lightly foaming cleanser removes makeup and dirt, while helping to reduce blackheads and breakouts.
Formulated with 
2% salicylic acid helps to unclog pores and gently exfoliate
Zinc compound helps reduce excess oil
0.5% allantoin helps soothe irritation
Use AM and PM daily as the first step of your skincare recipe.
This works to unclog pores and further help tackle breakouts, blemishes and blackheads in a concentrated exfoliating serum.
Formulated with:
2% salicylic acid helps to unclog pores and gently exfoliate 
1% low molecular Hyaluronic Acid to prevent dryness
Use AM or PM daily 
Salicylic Acid Exfoliating Scalp Treatment
This lightweight serum that helps to remove dead skin build up on the scalp, balance oil and reduce redness.
Formulated with:
2% SALICYLIC ACID helps to exfoliate and reduce the appearance of an oily scalp
2.5% FLUIDIPURE™ 8G helps to reduce scalp's redness
1% PANTHENOL helps to hydrate and moisturize hair
Use one to two times a week, AM or PM, gently massaging into the scalp, leaving to work for ten minutes before washing hair with your usual shampoo and conditioner.
#askINKEY