Bakuchiol Serum: the Retinol alternative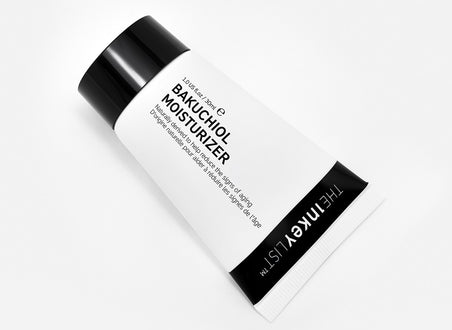 If you experience sensitivity in your skin but want the benefits of Retinol, the plant derived alternative Bakuchiol may be a good substitute. 
With antioxidant properties, Bakuchiol Serum embodies many of the properties of its Vitamin A counterpart and works to reduce the appearance of fine lines and wrinkles and even the skin tone. Our Bakuchiol Moisturizer is formulated with the Omega-3 packed Sacha Inchi Oil and Squalane, so also works to hydrate and nourish your skin. 
Bakuchiol, like retinol, signals cells to regenerate and increases healthy cell turnover to even skin tone and reduce the signs of fine lines and wrinkles. It can also benefit those suffering with acne breakouts and hyperpigmentation. This process can stimulate increased collagen production which also has plumping, anti-ageing properties. 
WHAT ARE THE BENEFITS OF USING BAKUCHIOL VS RETINOL?
Plant derived products, such as Bakuchiol Moisturizer, can be less irritating to the skin so are suitable for all skin types and can be preferable for those with sensitive skin. Retinol Serum can cause redness, itchiness and dryness to skin
Another benefit of our Bakuchiol Moisturizer, is that we deem it safe to use during pregnancy and breastfeeding because of its natural formulation.
Despite its powerful properties, Bakuchiol Moisturizer is compatible to use with the majority of other active ingredients whereas Retinol can contraindicate with AHAs, BHAs and Vitamin C.  
Finally, unlike Retinol, Bakuchiol Moisturizer doesn't cause sun sensitivity and can therefore be used in the AM and PM (we always recommend using an SPF in the AM of your routine anyway to protect the skin from UVA/UVB damage which can compromise the skin barrier).
HOW TO USE BAKUCHIOL MOISTURIZER
Bakuchiol Serum can be used in both the AM and PM of your skincare routine. Our formula is created to use at the MOISTURIZE stage after cleansing, toning and applying actives and serums. For any extra hydration boost, you can mix with Squalane or follow with Rosehip Oil. 
THE INKEY LIST BAKUCHIOL MOISTURIZER
Our Bakuchiol Moisturizer formula consists of: 
1% Bakuchiol helps to reduce the appearance of fine lines and wrinkles
3% Squalane helps to hydrate and protect the skin
1.5% Sacha Inchi Oil rich in omega-3 to nourish the skin
Want to find out more about Bakuchiol Serum and how to build it into your routine? Contact us at askINKEY.