What are the different hair types?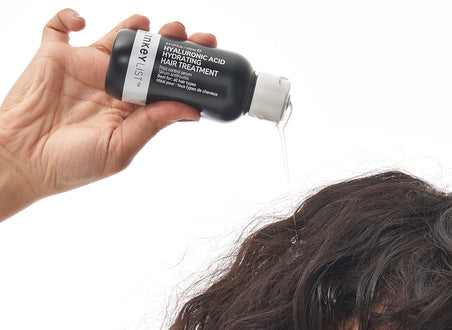 When finding the resolution to your hair woes, the first focal point is identifying your individual hair type. Ensure you're choosing the right products to maximise results, whilst not hindering the look and feel of the hair. For example, using heavy conditioning treatments on straight hair might resolve dryness but leave the hair flat and heavy. 
As with skin, there are 4 dominant types of hair which are split into further categories (A-C) within each type which range in density of hair growth. The main types are: 
STRAIGHT HAIR (TYPE 1)
Naturally straight and resistant to curling, this hair type is typically shiny and smooth.  
1A: Very straight and fine. High shine. Can be oily. 
1B: Straight, moderate volume, shine and texture. 
1C: Straight, coarse, thick. Low shine. Potential for frizz. 
KEY CONCERNS: OIL
As natural oil moves easily from scalp to tip on straight strands, removing excess sebum, product build up and dead skin cells is key for this hair type. Our Salicylic Acid Exfoliating Scalp Treatment or Glycolic Acid Exfoliating Scalp Scrub helps to balance oil production right from the root. See also our post on Scalp Health 101.
WAVY HAIR (TYPE 2)
Grows in an 'S' shape which gives hair a wave with the subtypes correlating with the definition of 'S' shape in the strands.
2A: Fine and thin, gentle 'S' shape.
2B: Wavy and slightly frizzier. 
2C: Defined waves starting from the scalp. Thick, coarse and dense strands. 
KEY CONCERNS: FRIZZ
As the strands gather more shape, this can cause a frizzier appearance when styling as they sit in between oily and dry. Keeping locks hydrated with our Hyaluronic Acid Hydrating Hair Treatment, helps to reduce frizz and brittleness and enhances wave definition and shine. 
CURLY HAIR (TYPE 3)
From loose to corkscrew curls, the curled strands grow up and outwards from the scalp. Hair tends to be thick and coarse. Often dry as natural oils from the scalp struggle to reach the ends. 
3A: Fine and shiny with loose curls. 
3B: Medium to tight springy curls.
3C: Tight, thick curls with high texture.
KEY CONCERNS: DRYNESS
Natural oils from the scalp find it hard to reach the tips of curly strands which can leave hair feeling dry and brittle. You can visit our blog post for more tips on how to maintain and style curly hair. Our Chia Seed Curl Defining Hair Treatment helps define, nourish and protect curls. 
KINKY HAIR (TYPE 4)
From tight coils to z-angled coils, hair strands grow in a 'Z' shape up and outward from the scalp. This type encompasses afro-textured hair. 
4A: Tight coil shaped curls. 
4B: Tight curls but in a z-shape crimp.
4C: Dense, thick and coarse, z-shape strands.
KEY CONCERNS: DAMAGE & DRYNESS
As with the curly hair type, damage and dryness due to lack of natural oil in the lengths can impact the overall health of kinky hair. Our Chia Seed Curl Defining Treatment helps reduce, protect and strengthen hair against chemical damage and tame frizz.
HOW TO DETERMINE YOURMY HAIR TYPE
Take a plain piece of paper and gently pull or place a discarded strand of your hair on it to identify which hair type you fit within depending on how the strand naturally sits. The more of a curve, coil or kink, the further on the hair scale you sit.  
If you'd like assistance identifying your hair type or advice on how to look after your hair, contact the askINKEY team.