Hair styling tips & tricks with Bjorn Krischker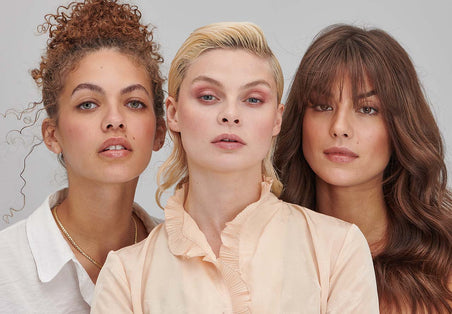 We've teamed up with celebrity hair stylist Bjorn Krischker, who has shared his insight on how to style different hair types. With an illustrious career working on photoshoots, events and with celebrity clients, Bjorn truly embodies INKEY's ethos of 'Knowledge Powers Change'. Read on for his top tips for curl definition, volume and repairing damaged hair….
HOW TO GET DEFINED CURLS 
Curly hair can be hard to maintain as often they lack a lot of moisture, especially in the winter period which can lead to the look of neglected frizz. Here's Bjorn's tips on how to revive and rejuvenate your curls:
Afro textured hair or curly hair in general is naturally quite dry, so you need to add as much moisture as possible and lock it in after. 
The order in how you apply the products to your hair is key. Start with the most watery products such as Hyaluronic Acid Hydrating Hair Treatment. Very similar to the Hyaluronic Acid for skin, this product penetrates your strands with moisture and hydration. Follow with the Chia Seed Curl Defining Hair Treatment to lock in moisture to create the perfect base before styling. 
To get maximum definition, I section the hair into pieces and soak each strand of hair in the Chia Seed Curl Defining Hair Treatment to get lots of moisture and definition in the curl. If you discover a curl that you think might not be curly enough or defined enough, you can top it up and use some of the Chia Seed Hair Treatment. Add it to a strand of your hair and see the definition follow.
Work with your hair, don't fight against it. Find the natural way your hair wants to part or sit and style it in place.
Use a picker or a wide tooth comb to go through your hair. This can lift and loosen up the roots to get more volume. Focus on the roots for added lift and volume.
If you want a little less definition at the front of your face. Pick up the curl and split right through the strand using the hook of the comb. It looks slightly more natural If there are smaller, less defined curls at the front.
It's amazing to see the results once you've added INKEY treatments because you always see an immediate result but also, the more you use these treatments, the more benefits you will see as over time your hair will get stronger and hold more moisture.
You can use all INKEY list haircare products alongside products you may already have at home from other brands. You can mix and match products this way and find the perfect routine for you.
HOW TO REPAIR & RESTORE HAIR
Hair can be damaged by multiple factors. Whether it's applying too much heat to your hair (yes, the hairdryer does count), colouring/bleaching or simply not removing products properly, your hair can be left feeling fragile and thin. Ultimately, your hair goes through a lot so here's Bjorn's advice on how to repair and restore damaged locks: 
A healthy scalp = healthy hair. That's where it all starts. Product build up happens to everyone. For example, when you use dry shampoo and you feel it mattifying your hair, it leaves a residue. This needs to be removed to free your follicles and allow for healthy hair growth.
It is so great to use the Glycolic Acid Exfoliating Scalp Scrub to get rid of all product build up on the scalp. It is formulated with both chemical and physical exfoliators to help remove dead cells which allows for more air to reach the scalp so that it can breathe again. It also balances your oil production, so your hair doesn't get as greasy so quickly.
When your hair is very fragile from colouring or bleaching, you need to be gentle handling your hair because it can break very easily. Your hair is at its weakest when it's wet, so when brushing, start at the bottom and work your way up to the root to avoid tugging and pulling at the hair.
Don't immediately put your hair up once having washed your hair. This will weaken hair strands and likely break strands when taking out the hair tie. Leave it down or put it into one long plait until completely dry. 
The INKEY list has the PCA Bond Repair Hair Treatment which builds the bonds within your hair strands. These hair bonds are likely to break whilst using bleach or hair colour, so this will help to repair and strengthen strands. Unique Granrepair Powerbond

®

technology penetrates the hair bond which lack the regenerative properties of skin. Resulting in healthier, softer, and stronger strands for overall shine and bounce.
HOW TO INCREASE VOLUME
Volume can be hard to achieve without the right preparation. It can add body and life to your locks. Luckily, at INKEY we have Bjorn's favourite volumizing treatment to add lift and spring to your roots. 
The Peptide Volumizing Hair Treatment creates amazing volume in the hair instantly. Also, the longer you use the product the more volume you will achieve whilst over time it will increase the diameter of your hair.
Go from root to tip and give a massage to your scalp so you get that deep rooted volume lift.
Next step is the blow dry. The Peptide Volumizing Treatment works wonderfully alongside the blow dry and really elevates it up a level. Always over direct the hair so you can lift the root up.
Although it can sometimes be tricky to add volume once the hair is dry, you can use the Peptide Volumizing treatment on dry hair to add that extra boost if needed. 
Want further information on hair concerns? Chat with the #askINKEY team.