Retinol for scarring and post-acne marks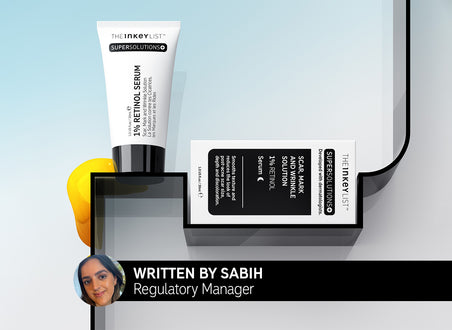 After getting breakouts under control, we're often left with dark or textured post-blemish marks. If you experience breakouts, we know it's super important to avoid popping or squeezing them (even though it can be tempting). But why? Popping spots can cause inflammation within the skin and increase the likelihood of scarring. Picking spots can also cause bacteria to spread and lead to further breakouts.


What is acne scarring?
The types of acne scars that develop will depend on your skin and the severity of the breakout. Large, deep or inflamed spots can affect the collagen in the surrounding skin, and lead to hollow, pitted or indented marks which create an uneven skin texture. You may also notice small brown marks appearing on the skin after a breakout clears. This is called 'post-inflammatory hyperpigmentation' (also known as 'dark spots') and can give the skin an uneven appearance.


What is Retinol, and why is it used in products for acne scars?
Although Retinoids are widely proclaimed as 'holy-grail' anti-ageing actives, they're also a Dermatologist favorite for improving post-blemish marks. By increasing our cell-turnover, Retinol works to promote both textural and tonal changes within the skin. With continued use, Retinol helps to smooth uneven texture and fade the appearance of dark spots.


How to use Retinol
After reading about the incredible benefits Retinol has to offer, you may be tempted to jump straight in and start applying it every evening. However, using too much Retinol won't give better or quicker results, and may instead cause unnecessary irritation to the skin. Knowing how often to use Retinol can be tricky, so we've made a handy step-by-step guide to explain how to start using Retinol in your skincare routine.
Step 1) First off, complete a patch-test! We always recommend this when trying a new product, to make sure it's suitable for your skin. Learn more about patch testing here.
Step 2) In the first two weeks, start by applying your Retinol once every 5-7 days. In weeks 3 and 4, increase your usage to twice per week.
Step 3) In week 5, increase your applications to every other evening. How is your skin feeling? Are you are noticing any signs of discomfort, such as dryness or flakey skin? If no, then continue to use the product every other evening (if desired). If yes, reduce usage and try mixing the Retinol into your moisturizer until any signs of irritation subside. This will help to soften the delivery of the Retinol whilst your skin builds up a tolerance.


How much Retinol should I use?
Always refer to your products usage instructions to check how much to use, and where it should be layered in your routine. We suggest applying a pea-sized amount to cleansed skin and following with your moisturizer.
When do you put Retinol on? Always apply Retinol in the PM as part of your evening skincare routine. As Retinol can increase your skin's sensitivity to the sun, it's important to use an SPF in your AM skincare routine.


What strength Retinol should I use
It's important to know what percentage of Retinol to use for your skin type and concern.  If you're new to Retinol we'd recommend beginning your journey with our Retinol Serum. This contains 1% Retinyl Acetate, a gentler Retinol derivative, which will allow your skin to safely build up a tolerance to the ingredient before trying higher Retinol concentrations.
If you have stubborn, textured, or discolored post-acne marks, we'd recommend using our Super Solutions Scar, Mark & Wrinkle Solution. This solution contains our highest percentage of Retinol at 1%, to help smooth texture and even skin tone. It also combines 5% Apricot Kernel Oil with 2% Squalane to help counteract the dryness that can be experienced with Retinoids.
If your post-acne marks are only slightly or moderately discolored, try using our Mandelic Acid Treatment. This contains 10% Mandelic Acid and 0.1% Retinol, which together work to exfoliate the skin and reduce the appearance of dark spots.


How long does Retinol take to work on acne scars?
Good things take time. Retinol is not designed to give an 'instant' or 'overnight' effect, so patience and consistence are key when introducing a Retinol product into your routine. Make sure you keep applying the product regularly, even if you're not seeing the effects right away.
Due to the time it takes your skin cells to turnover, the benefits of Retinol will generally begin to show after 6 weeks of regular use. However, some people may start to see an initial improvement in their skin even earlier - In fact, 84% of people saw a visible improvement in the texture of their skin after just 4 weeks*. We'd recommend using the product for a minimum of 12 weeks to see a visible improvement in the appearance of your post-acne marks. If you are concerned about severe marks or scarring, we would advise seeing a Dermatologist for further guidance.
If you need more guidance on which Retinol from The INKEY List you should be using, chat to our askINKEY advisors! Available to chat 24/7.