Ingredients 101: Retinol & Retinoids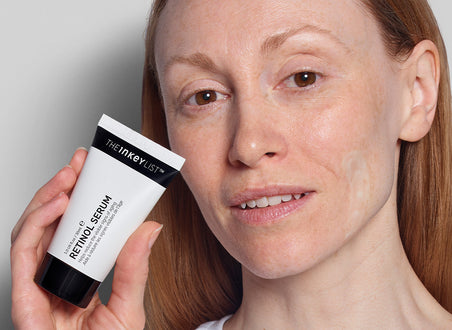 Introducing one of our favourite families - the Retinoids! An umbrella term for a group of compounds derived from Vitamin A, they are the ultimate ingredient for skin renewal and combating the signs of ageing. You may have already heard of the head of the household, Retinol  a product consistently championed by the experts, but dig beneath the surface and the scientifics of this group can raise a few questions. 
HOW DO RETINOIDS WORK?
In short, retinoids can increase cellular turnover by first stimulating the removal of dead skin cells from the surface as well as regulating cells involved in collagen and elastin production, helping the skin to look smoother, brighter, firmer whilst reducing the appearance of fine lines and wrinkles. 
When we're babies, cellular turnover can happen in as little as 3-5 days yet as we age, it slows down and can extend this process by up to 28-45 days by the time we're 30 and 45-60+ days as we get older. 
Retinoids are heroes for targeting the signs of ageing, improving skin texture and tone and leaving you with a brighter, firmer complexion. They can also be used to treat acne. 
RETINOL VS RETINOIDS - What's the difference?
Retinol itself doesn't affect the skin directly and works with the enzymes within the skin to convert it into Retinaldehyde and then Retinoic Acid which is where it then becomes effective and skin cell turnover increases. The speed of this process can depend on a few factors such as the percentage of Retinol, stability and genetics 
At the more potent end of the spectrum are prescription retinoids such as Tretinoin and Retin-A. These are already formulated as Retinoic Acid therefore don't need to be converted once applied to the skin.
And the new kid on the block is Granactive Retinoid which offers a much lower irritation potential and is unique due to its ability to bind with retinoid receptors within the skin cutting out the need for metabolic breakdown.
WHAT DOES RETINOL SERUM DO?
Helping to target the signs of ageing, Retinol Serum helps target the appearance of fine lines and wrinkles with less risk of irritation which can be typical with retinoids. Other benefits of Retinol include boosting overall skin clarity and uneven skin tone for a brighter, more even complexion. The 1% RetiStar stabilised Retinol equates to around 0.05% Retinol whilst the Granactive Retinoid used equates to 0.05% Hydroxypinacolone Retinoate. We've also added Squalane for hydration and soothing.
HOW TO USE RETINOL SERUM
Only use in the PM. On cleansed skin, and after Hyaluronic Acid Serum if you are using it, apply a pea-sized amount and massage into to the face and neck. Follow with moisturizer, oil or both depending on preference. Start off using it 2-3 times per week and increase gradually if your skin can tolerate more frequent use. For more information on layering, watch the video in the layering section below.
WHAT DOES RETINOL EYE CREAM DO?
A night time eye cream formulated to reduce the appearance of fine lines and wrinkles while giving extra support to your most fragile skin. Our Retinol Eye Cream has been formulated with slow release Vitamin A derivatives shown to support natural collagen production, while being gentle enough to use around the eyes. The 3% Vitalease™ (Retinol) is a stabilized retinoid compound, slow-release formula which equates to 0.09% Retinol. 
HOW TO USE RETINOL EYE CREAM
Use in the PM starting off 1-2 times per week and increasing depending on your skin's tolerance. After serums, apply a small amount onto finger and gently pat around the contour of the eye, following with usual moisturizers or oils. Can also be used to target lines around the mouth, avoiding the lips. 
askINKEY ANSWER YOUR RETINOL QUESTIONS
HOW LONG DOES IT TAKE TO SEE RESULTS?
Consistency is key when using products with Retinol - it can take up to six weeks to see results . The speed of this process can depend on a few factors such as percentage of Retinol, stability and genetics. Due to all this, Retinol is a slow worker - the longer you use it, the better the results will be. It can be very tempting to increase use of some products to try and see quicker results, don't overdo it though. More is not always better change for future. Overuse can cause irritation and sensitivity. Watch Sev's before and after retinol journey below.
IS RETINOL SERUM SUITABLE FOR SENSITIVE SKIN?
There are irritation risks with Retinol. This is why we made our formula slow release to reduce the risk of irritation and make it suitable for most skin types. However, if you have very sensitive skin, or are pregnant or breast feeding, we suggest you try our Bakuchiol Moisturizer. A natural alternative to Retinol. It also helps target signs of ageing and is suitable for all.
HOW OFTEN SHOULD I USE RETINOL SERUM?
Start of with 2-3 times per week and increase gradually if your skin can tolerate more frequent use.
WHEN SHOULD I START USING RETINOL SERUM?
We recommend starting at age 25, to help support the skin as its natural collagen and elastin production starts to slow down.
WHY CAN'T I USE RETINOL SERUM IN THE MORNING?
As Retinol speeds up skin renewal, newer skin reaches the surface quicker. This can increase the skin's sensitivity to the sun. That's why we recommended only using Retinol in the PM and always using a broad spectrum daily SPF 30 sunscreen during the day.
SHOULD I BE CAREFUL WHEN USING RETINOL SERUM WITH OTHER PRODUCTS?
Yes - We recommend not mixing retinol with Alpha Hydroxy Acids at the same time as this can lead over exfoliation and sensitised skin so alternerate and use on different nights. Also, avoid mixing Vitamin C products. You can alternate the time of day you use these. 
WHAT IS RETISTAR? IS IT THE SAME AS RETINOL?
RetiSTAR™ is a stable form of retinol in a dispersion containing tocopherol, sodium ascorbate and PEG-40 Hydrogenated Castor Oil in caprylic/capric triglycerides to ensure maximum effectiveness. Conventional retinol creams and serums can flood the skin with retinol which can cause skin sensitivities and redness.
IS IT PREGNANCY SAFE?
We don't recommend using retinoids if you're pregnant or breastfeeding and to consult a dermatologist if experiencing rosacea, eczema or other skin conditions.Try our Bakuchiol Moistruizer instead.
HOW IS BEST TO ADD RETINOL SERUM TO MY SKINCARE ROUTINE?
Create a skincare routine today with our Recipe Builder. Just answer a few quick questions about your skincare goals and we can recommend a personalized recipe for you.
For more information about Retinoids, Retinol The INKEY List products or how to build a personalized skincare routine, chat to the #askINKEY team today!