|
5 Best Ingredients For Dry Skin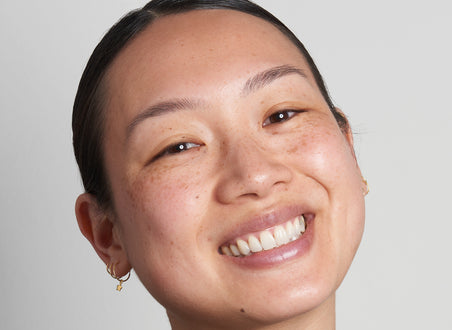 "Why is my skin so dry even when I moisturize?" 
Trust us when we say this question is one of the most common questions we receive, especially during this time of the year. If you're using hydrating products and not seeing results for dry skin, there are numerous reasons why this could be happening.
For starters, there's a difference between dry and dehydrated skin. Dry skin is caused by a lack of oil and leaves skin feeling tight and flaky whereas dehydrated skin is caused by a lack of water and can leave skin dull. Learn more about these differences in our Dry Vs Dehydrated Skin blog. 
You also may not see results for dry skin because you're using the wrong skincare ingredients or you may need products with a stronger concentration. 
Let's take a look at the 5 best ingredients for dry skin. 


1. A Hydrating Cleanser 
Hydration should be the focal point from start to finish with your routine, which is why it's especially important to look out for hydrating cleansers to ensure you're not stripping your skin of moisture while cleansing.
We highly recommend our best-selling Oat Cleansing Balm as a hydrating cleanser. The creamy, lightweight formula is designed to melt away makeup and remove dirt, oil, and SPF while hydrating and nourishing the skin. In addition, it also soothes and reduces the appearance of redness, which makes it especially helpful for dry skin. If you're double cleansing, we recommend using our Hyaluronic Acid Cleanser for an extra boost of hydration.


2. Hyaluronic Acid
When you think of hydration, hyaluronic acid is key. There's a reason why our Hyaluronic Acid Serum sells every 20 seconds worldwide. Not only is it effective for dry skin but it works across multiple layers of the skin. The moisture-binding formula means it can hold up to 1000x its weight in water beneath the surface of the skin for all-day hydration and dryness relief. We recommend using it in both the AM and PM on damp skin for the most effective results.
For an extra boost of hydration, we recommend pairing our Hyaluronic Acid Serum with our Polyglutamic Acid Serum, which can also be used in the AM and PM–and you can mix it into your foundation for extra moisture.


3. Peptide Moisturizer
Now that we've covered cleansers and serums, let's talk about moisturizers. We recommend using our Peptide Moisturizer every AM and PM. This moisturizer helps the skin's moisture barrier, hydrates the skin on multiple levels, and even helps to reduce the appearance of wrinkles and smooth fine lines.


4. A Hydrating Overnight Treatment
Nourish dry skin with products that work while you sleep. Creams like our Ceramide Night Treatment, target dehydration and dryness overnight. It's formulated with hyaluronic acid to hydrate and plump skin. 


5. Urea Moisturizer
If you've tried everything and are still battling dry skin (keeping in mind the recommended six week window for results to show), we recommend our 10% Urea Moisturizer, which has been developed by dermatologists alongside our team to deliver instant hydration to the most severe dry skin. It's also suitable for people who may be prone to eczema and psoriasis.
Lastly, don't forget about SPF! We always recommend using SPF in the AM to protect the skin barrier all day. A healthy skin barrier holds in moisture!


If you have any other questions or would like to speak to our team directly about your skin care goals, chat with us at askINKEY 24/7!